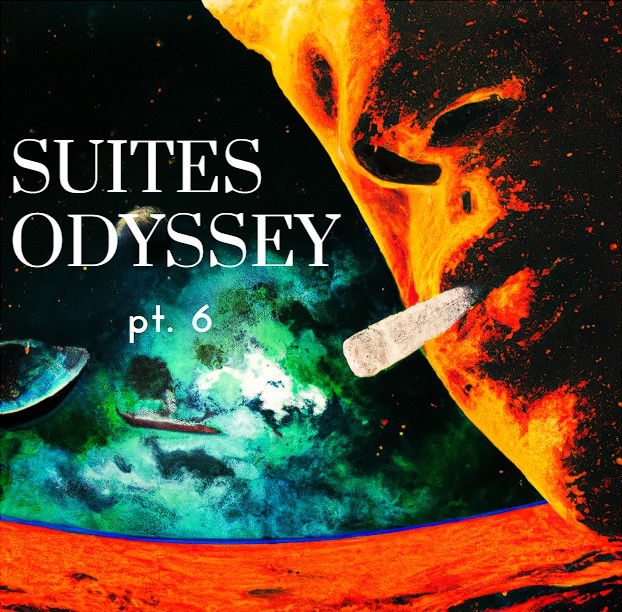 Fib gulps, swallows down pure terror, eyes closed.
… below deck Suitizens are peacefully slumbering in a cryogenic simulation, dreaming lifetimes of fortune – victory, whatever else is shuffling on the playlist.
Fib lights a cigarette, staring through the viewport at the violent interaction between the Suites vessel and the surrounding atmosphere.
Energy streams in hot waves across the surface of the ship, leaving a trail of ripped and disintegrating pieces of the hull in its wake. The surface of the planet pulling them expands rapidly but also in slow motion, completely dominating the field of view.
Fib's eyes snap open, smoke shoots out of his nostrils..
…From the nearby settlements, what looks like a shooting star except in broad daylight streaks across the sky, and would be easily missed but for the enormous supersonic roar that erupts long after the ship has made impact into the planet's surface.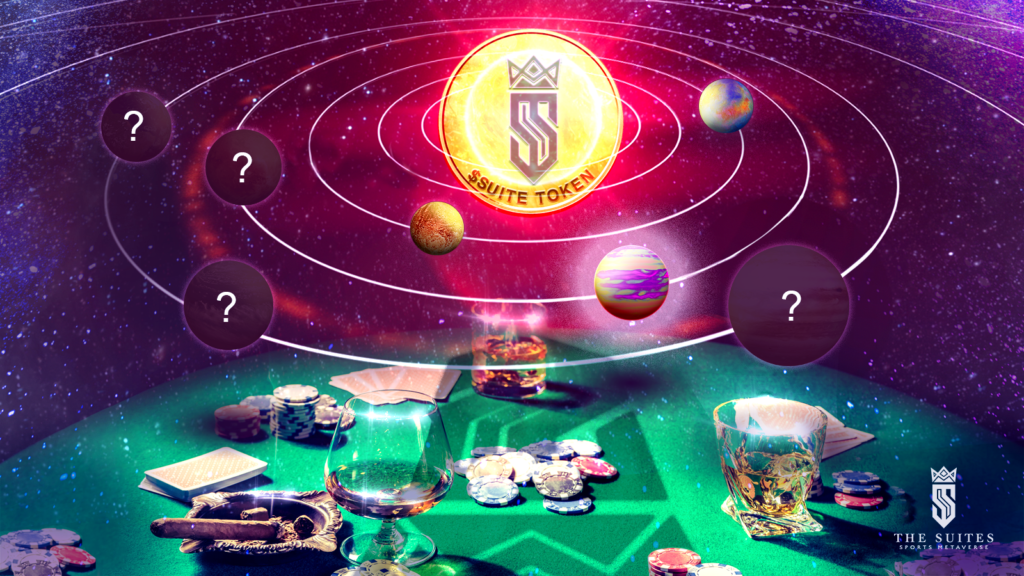 ---
Wandering around what appears to be the streets of an enormous city, unable to tell if he's alive or dead, Fib Newton finds himself in a half-amazed stupor, peering around in a concussed dreamstate.
Information flows through the air in 280 characters-or-less gusts of illuminated text, flirting with the eyes, begging you to pay attention. Stalking through the geometrically unfeasible city streets are peculiar entities – animals, cartoons, smoking pipes – shooting lasers from their eyes… Some fully articulated in uncanny 3d renders, some merely a floating portrait hovering above the ground. Most of them are some kind of ape.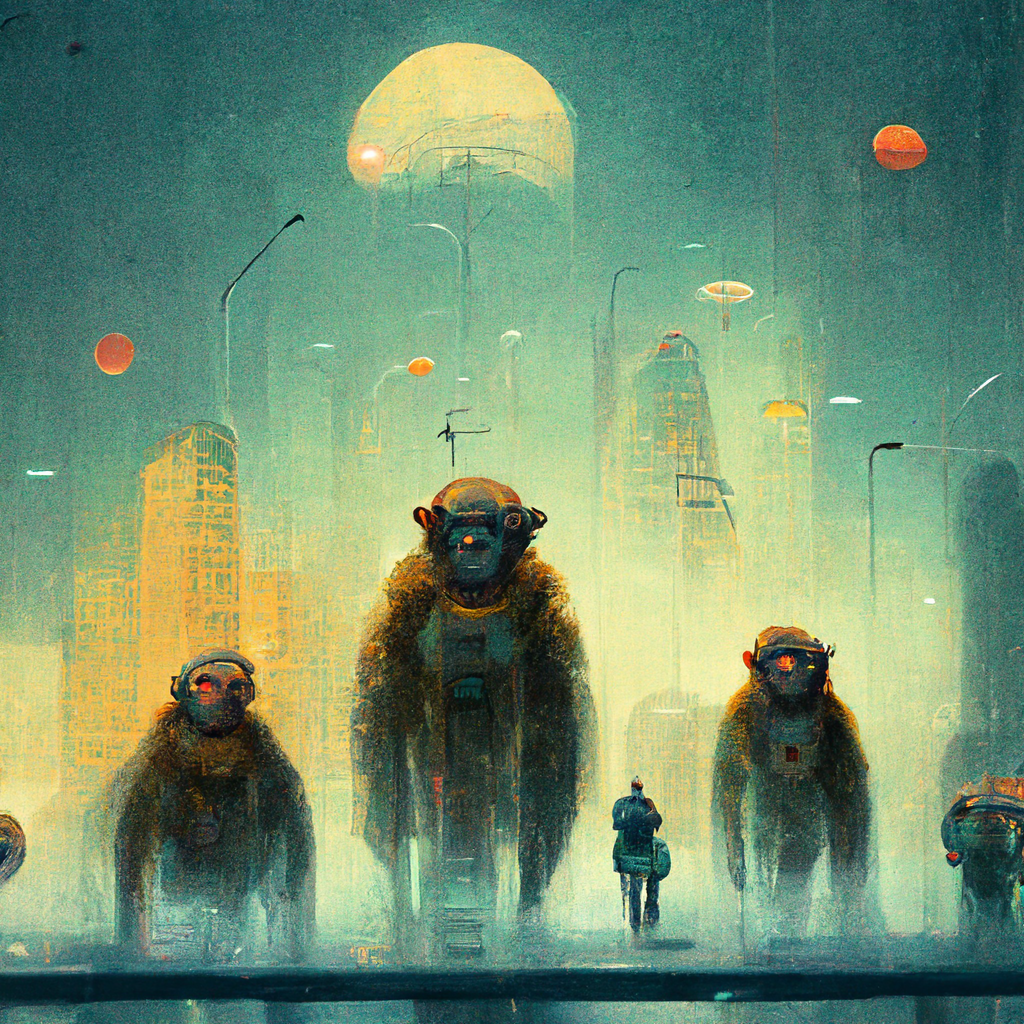 "JPEGs…" Fib mutters, unheard (even to himself), eyes crossing.. Dizziness increasing…
Vaguely parsing the infectious hum of this strange new place – he hears snippets of conversation.
Turning a corner, he notices he's been following a short orange creature, its light steps phasing on the holographic pavement – it's astronaut helmet contrasting strangely with what seems to be a sailors uniform.
What a peculiar mixture of traits… Looks rare.. Fib's brain manages to think.
Through a low door and the scene changes, the creatures are everywhere, chattering, wearing improbable outfits, the energy is that of a stock exchange, a bazaar… an enormous fox den??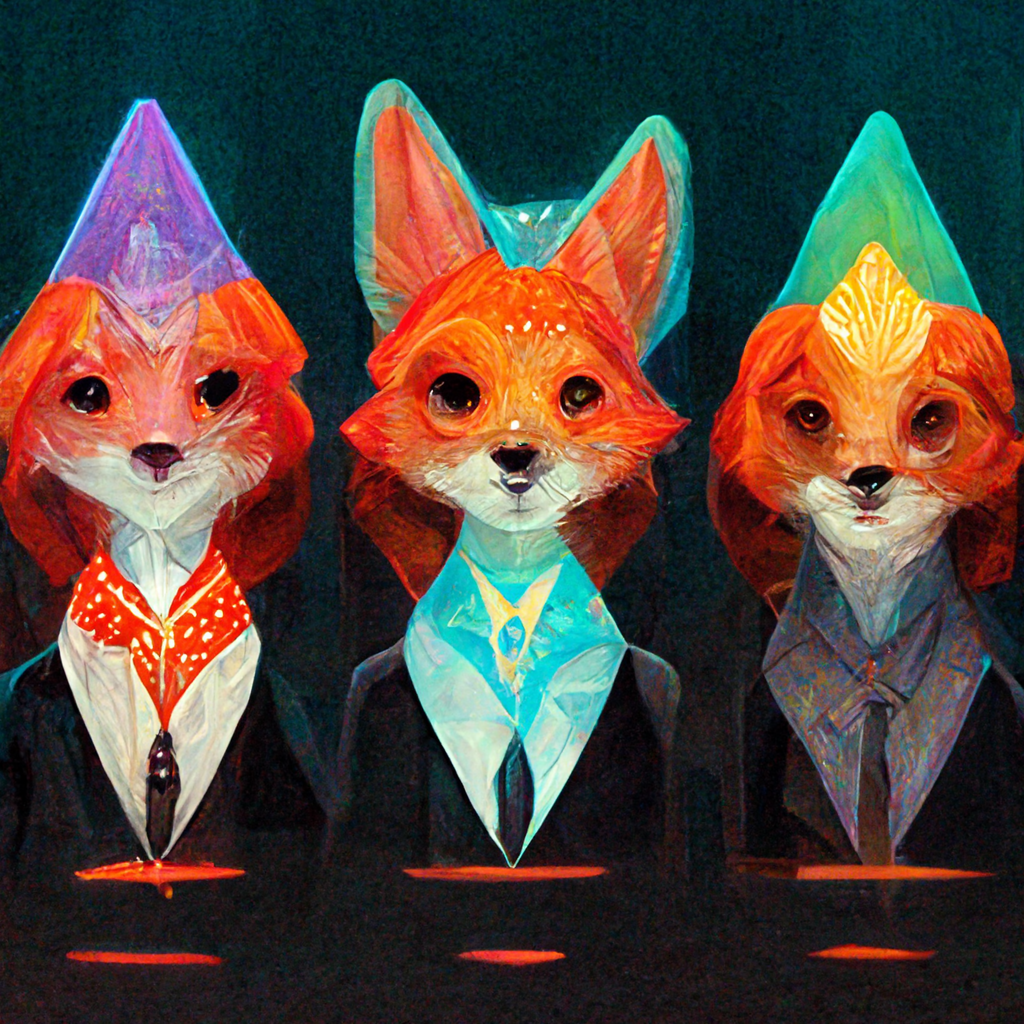 Scurrying here and there, the foxes are impossible to dialogue with. Fib sluggishly attempts to make contact to no avail – they are simply moving too quickly, making too many plays – building too many utilities.

However, in a NEBULOUS flash of insight, he reaches into his pocket and takes out… to his own surprise…
A handful of $SUITE tokens.
INSTANTLY – the mood shifts. Foxes turn to face the slight glow of the tokens, their eyes twinkling with interest.
"Am I … alive…?" Fib asks.
---
Later – high above the city in what appears to be a fairly foxy office space although a little cramped…
–
Fib shakes hands with a Fox in charge of "Token Integrations" – a middle management kind of fox, whatever that means. Regardless, it seems the power of the $SUITE tokens was apparent, so the negotiations occur quickly.
The agreement arrived at this:
Man, life in the big city sure is tough… I wonder what I can raffle for a new ship… Ponders Fib.
–
…but that story will simply have to wait until NEXT WEEK!
---
Our token is now LISTED on the FFF platform. This means you can purchase or list your $SUITE tokens – allowing one to STACK IT UP to an even more aggressive degree. However, for there to be buyers there also must be SELLERS – and we are thrilled to open up our token to the greater market.

As mentioned – we will also be kicking off another MASSIVE landmark utility for $SUITE…Raffles!
These will also occur on the FFF platform. In fact, anything raffled on the Famous Fox Federation site can now be raffled for $SUITE – but we will be starting off STRONG with our OWN offering (details soon!)
We are truly stacking it up, just THINK ABOUT IT – with the power of our $SUITE token, combined with the incredible promise of The Suites project, a whole NETWORK of utility is being born in front of our eyes.

In fact… Something has become clear…

Our odyssey is DEMONSTRATING, INSTILLING in us something very simple, yet very powerful.

That the GALAXY will soon see $SUITE as THE web 3 sports and gambling token.
Every step forward is another node of connected power for our purpose, every added utility is a reason to stack and own $SUITE… The web is being woven, and takeover is IMMINENT.

Yet, we're still in the first half of the journey…

And although much has happened, and the pages are turning quickly…

There is still SO much further to go.
So we continue on, unstoppable, towards the brilliant future of The Suites, together!
-Fib Newton, CM