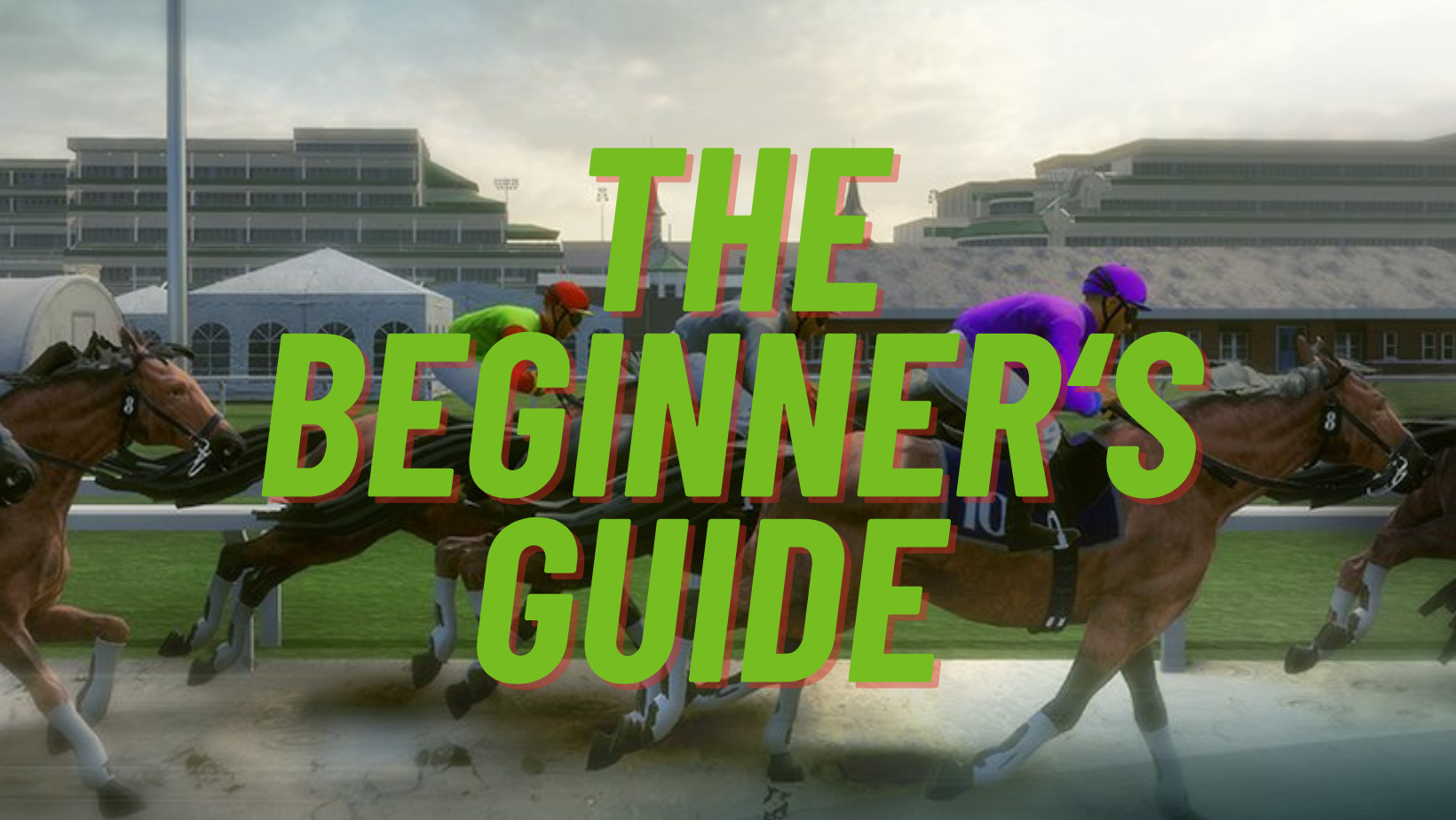 You've already done the hard part; you've found us — Photo Finish™ LIVE, the Official Game of the Kentucky Derby.
Now that you're here, it's our job to take you on a virtual tour of the game that gets you from a new arrival to a new contender in less time than it takes to complete a four-furlong race.
What's a furlong? Don't worry — we'll cover that.
If there is one sign you hang over your computer and tap on occasion as you learn the Photo Finish™ ropes, make it this: As Real As It Gets.
Photo Finish™ is a simulation-style game that aims to mirror real-life horse racing, meaning the themes and ideas below should be familiar if you're a horse racing fan and easy to understand if you're new to the sport.
Account Sign-up
The first step to virtual horse racing glory is creating an account on Photo Finish Live. This process is quick and easy, taking you less than a minute.
Click here to create a new account. Once you've done so, poke around the 'My Stable' page, your virtual horse racing owner's office desk, where everything from your stables' financial history to custom designing your jockey silks lives under 'Settings.'
Once you've completed this step, you'll be eligible to do many things immediately, including making horse picks.
Meet Your Trainer Horse
Now that you have your Photo Finish™ Live account, it's time to meet your trusty companion, Trainer Horse. This horse will be your racing partner as you start your journey.
First, give your trainer horse a name; it's the first step to forming a special forever bond with any newly bred horse, specifically the one that started it all. You can name your horse by clicking the pencil icon under the horse. Make it good, because the name can't be changed. 
Next, click on the "Free Races" tab and select a race that suits your horse.
While your trainer horse won't bring you real money winnings, it serves a vital purpose. Racing your Trainer Horse is like being on a practice track — wins don't formally count, but they make you better when the real competition arrives. 
Running your Trainer Horse will help you learn the ins and outs of Photo Finish™ and get a taste of the identical visual experience you'll encounter in real-money races — all for free. 
Learn To Play
When just starting your journey, visit the "Learn to Play" tab on the left-hand side of the page. This treasure trove of educational materials covers every aspect of the game, including Horse Basics, Racing Basics, Breeding Basics, About Us, and much more.
It's like what you're reading here but in manual form. So, if you're a textbook line-by-line learner, that's the place for you.
If you don't see a topic you're looking for, ask in Discord, and a member of the Third Time Games team or a community member will happily point you in the right direction, or even answer the question themselves.
Fund Your Wallet
In the world of Photo Finish™, DERBY is the equivalent of cash. It's the in-game currency that you can convert back to real currency at any time.
To get started with DERBY, click on the horseshoe icon at the top right corner of your screen. There are various funding options to choose from—purchasing DERBY with a credit card is expected to be available very soon (and possibly already, depending on when you're reading this.)
Most important note: 80 DERBY will always equate to one US dollar. 80 DERBY = $1. Always.
Funding your wallet is essential as it's used to purchase virtual racehorses in the marketplace, enter actual money races, and place wagers.
Once you've loaded your wallet with DERBY, you're ready to action various exciting features within the game.
Browse the Marketplace
With DERBY jingling in your pocket, you're now ready to explore the marketplace in anticipation of purchasing your first real racehorse. This is where the excitement truly begins!
Click on the "Marketplace" tab and browse through the available horses. Within the Marketplace will be filters that allow you to sort horses in a multitude of ways. 
Shopping for horses is more than just selecting a name or color; it's a crucial part of the game.
While you may not buy a horse immediately, window shopping will give you a good idea of what is what, and who values what.  
You'll learn the differences between horse preferences, grades, and other essential details that will set you on the path to success. These nuances will become apparent as you continue to explore the marketplace; you'll discover a variety of racehorses, each with unique qualities. This will help you decide when to make your first accurate racehorse purchase.
Important: 'Retired' horses can no longer race and are only for sale for breeding purposes, which, depending on the horse, can be extremely valuable in its own right.
Learning Horse Grades and Preferences
In Photo Finish™, horses are graded based on their genetics, with grades ranging from D (lowest) to SSS (highest), further subdivided into S-, S, and S+.
These grades reflect a horse's genetic strength in various traits.
Additionally, a horse's attributes (Start, Speed, Stamina, Finish, Heart, and Temper) are graded, although these grades become visible only upon retirement. A horse's overall grade is an average of its attribute grades.
It's important to note that grades represent a range of values rather than a single number. For example, two horses with an S grade in Start will have similar Start attributes, but their actual values may differ within the S range.
In Photo Finish™ LIVE, each horse boasts six critical attributes:
Start The horse's initial burst of speed from the gate, most influential in shorter races.
Speed: Once it finds its stride, the horse's pace is highly effective in shorter and mid-distance races.
Stamina: The horse's ability to endure as the race extends, becoming vital in mid to long races.
Finish: The horse's determination to surge towards the finish line, particularly dominant in the longest races.
Heart: A horse's competitive spirit, driving extra effort in intense and significant races but waning in less competitive or irrelevant events.
Temper: The horse's focus and consistency keep performance steady even on off days.
Furthermore, each horse features three preferences:
Surface: A choice between Dirt and Turf, with penalties for racing on an unsuitable surface.
Direction: A selection between Right and Left, with penalties for racing in the unfavorable direction.
Condition: A preference among track conditions – Fast, Good, Yield, Soft, or Sloppy – influencing performance, with penalties for running on an unsuitable track.
These attributes and preferences are determined by a horse's grade or star count in each trait, significantly impacting their strength and success on the racetrack.
Understanding Race Types
Selecting the right race type for your horse is crucial for success in the equestrian world. This involves considering distances and various race types. Here's a summary of the key information:
Distances: Pay attention to the furlong distances for each race. A furlong is 1/8 a mile, or 220 yards. Your horse's performance at different distances can be determined by looking at the charts.
Race Types:

Graded Stakes (I, II, III): High-stakes races with significant entry fees and big purses. Typically, it is reserved for S or S- S-grade horses.
Grade Restricted: Races that only allow certain grade horses, providing a great opportunity for B and A-grade horses.
Maiden: Horses can compete in these races until they secure their first win.
Handicap: Suitable for stronger horses with high preferences. Weight is added to even the playing field, allowing A horses to be competitive with S horses.
Allowance: Races with specific registration criteria and weight conditions. All horse grades can perform well here, but enter only if your horse's grade meets the requirements.
Stakes: A tier just below graded stakes, attracting horses of various grades aiming for the big leagues.
Claimers: Races where other owners can claim horses for a specific price. Lower-tier horses can excel in these, but be cautious as your horse could be claimed. Owners of the horse in a Claiming Race receive the purse winnings and the Claiming price, but the person who claims the horse takes it home with them. Learn more about Claiming Races here.
Juvenile: Races for two-year-old horses, separate from other age groups.
Selecting a Race
Choosing the right races for your horse is a crucial decision for stable owners, to set your virtual racehorse up for success.
It's essential to select races that match your horse's attributes and preferences — which will be apparent by the stars your horse has assigned to each.
To make informed decisions about selecting races for your horse, follow these guidelines:
Race on Preference: Consider your horse's preferences, such as track type and condition, which stars below its name indicate. Racing on preference can offer an advantage in performance.
Selecting a Race: You have two options: A) Use the "Find Recommended Races" link to automatically filter eligible races and refine them based on type and grade restrictions. B) Visit the "Races" tab on the left.
Filtering: Use the race filter on the "Races" tab to match your horse's preferences, including track turn and surface. For instance, select these filters if your horse prefers right-turning and dirt tracks. Check the weather forecast for each track to find the desired surface condition, like soft.
Save Filters: Consider saving your preferred filters using the "Save Filter" option to streamline the process for future selections.
Weather/Surface Condition: Examine the filtered races, taking note of the weather icons and percentages. Seek races with conditions that align with your horse's preferences. For example, if your horse prefers it sloppy, your best bet is those races with a higher chance of rain.
Conditions can be categorized as follows:
Fast: Most advantageous for horses that prefer Firm.
Good: Slightly advantageous for horses that prefer Firm.
Yielding: No advantage for any horses.
Soft: Slightly advantageous for horses that prefer Soft.
Sloppy: Most advantageous for horses that prefer Soft.
Understanding What The Age of a Horse Means
Whether before or after you've entered a race, or while shopping for a new horse, it's important to know that, like in real life, Photo Finish™ LIVE horses age over time. In Photo Finish™, each in-game season represents a year in a horse's life.
Aging brings about two significant changes:
Age-Based Actions:

Age 0 & Age 1: Horses are too young to participate in activities.
Age 2 – 8: Horses can race in any tier.
Age 3: Horses have the option to retire.
Age 3 – 25: Retired horses can engage in breeding activities.

Race Performance Changes:

Each horse in the game has a peak age when it performs at its best. This peak period can last for months or even years, and genetic factors determine it. However, the exact age of a horse's peak is not visible to players. To determine a horse's peak, players must observe its race performances, as this is when it will perform exceptionally well. Outside peak age, a horse's performance will be closer to standard.
What Does Horse Status Mean?
In Photo Finish™ LIVE, your horse's status indicates how it feels and what actions it can perform. These statuses can change frequently based on your in-game actions:
Ready to Race: A horse in this status can enter races or be sold to other players. It has no outstanding debts, increased injury risk, or negative conditions. Note that all horses have a small chance of getting injured during a race.
Recovering: A horse in Recovering status has recently participated in a race. It can still register for races or be sold, but if it races before the recovery timer ends, it has an increased risk of getting injured.
Exhausted: An Exhausted horse has recently raced and cannot register for races. However, it can retire for breeding or be sold to other players.
Injured: An injured horse must heal for 48 hours before it can race again, or until its medical bill has been paid. Injuries do not prevent retirement or breeding, and some players choose this option if the cost of continuing to race is not worth it.
Retired: A Retired horse cannot participate in races but can still breed or be sold on the market. Male horses can also be put on the Stud Market, allowing other players to use them as breeding partners for a fee.
Pregnant: A Pregnant horse, typically a mare, carries a foal and cannot breed or race. It can be sold on the market with the pregnancy, and foals will arrive at the start of the season following the pregnancy.
Review Your Performance
After your race, it's time to delve into some thorough analysis of the results that will help give you a better idea of what race to enter next.
Explore the "charts" tab for valuable data regarding your horse's performance, each highlighting a different aspect of your horse's results.
Most notably, by reviewing this information, you can better understand what distance your horse has best performed at in previous races.
For a more in-depth evaluation, you can acquire a "race report" for 400 DERBY from the race results screen, offering invaluable insights into your horse's performance.
As a bonus for those who own five PFPs or more, link your account to a verified Discord account, and you'll unlock the perk of receiving race reports free of charge.
Horse Rest Chart
As in real life, Photo Finish™ horses require rest before they can hit the racetracks again. Below is a cheat sheet for horse rest that should give you an idea of how often your horse can compete. A 'Can Race In' countdown clock will let you know when your horse may safely race again.
Gen 0

Rest Period: No Rest Period
Risk of Injury: No Injury

Gen 1+ (2-3)

Rest Period: 24 hours
Risk of Injury: No Injury

Gen 1+ (4)

Rest Period: 24 hours
Risk of Injury: Very Low Risk

Gen 1+ (5-8)

Rest Period: 24 hours
Risk of Injury: Small to Growing Risk

All Ages (except Gen 0)

Rest Period: Less than 24 hours
Risk of Injury: Risk of Injury

Racing without Full Rest
Injury

Treatment: Vet bill and Waiting Period
Return to Racing: After the Waiting Period
Next Week: Beginner's Guide Part 2
You've gone from creating an account to hitting the tracks and understanding the results.
The Beginner's Guide Part 2 will delve deeper into the game, including how to breed a horse and understanding CROWN, the utility token of the Photo Finish™ ecosystem.