Claiming Races have arrived at Photo Finish™ LIVE! 
The much-anticipated addition of America's most popular style of horse race will make its debut on the Photo Finish™ platform this week, and with the addition comes some added strategy, excitement, and intrigue to the weekly race schedule.
If you're new to the world of horse racing, or not sure how Claiming Races translates to the virtual horse racing world of Photo Finish™, you may be wondering how these races work and how you can get involved. 
Let's cover the basics of what Claiming Races are, and why we're so excited to see them in action beginning this week.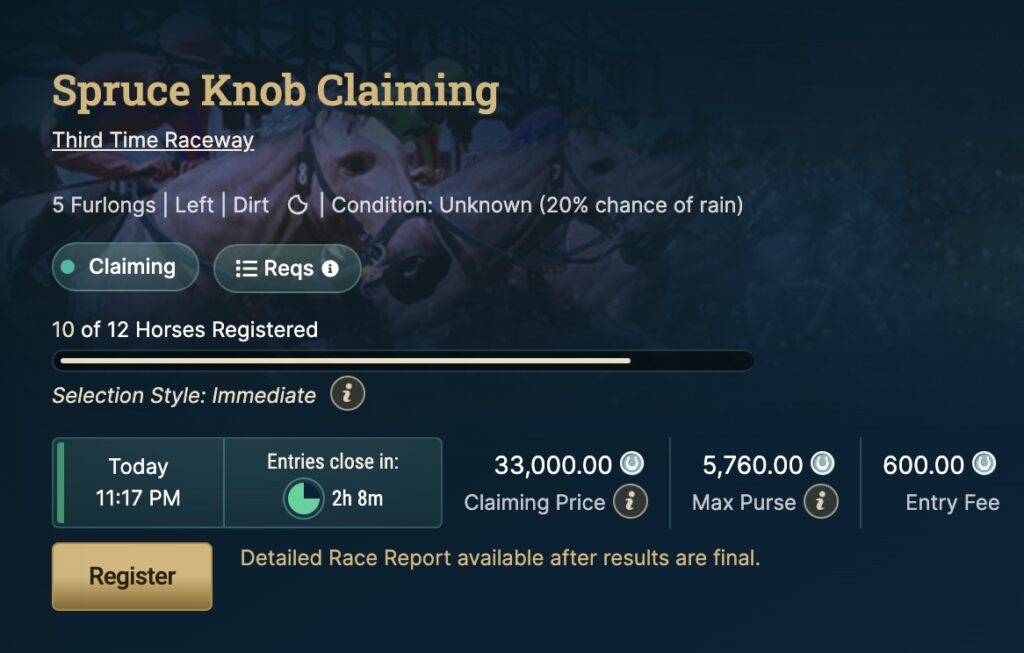 How Claiming Races Work 
The good news is that if you're new to Claiming Races and wondering how they work, they could not be more straightforward! 
In a Claiming Race, the prices for the horses are set when the races are scheduled. When the race is locked, any single horse is available for bidding. In the event that multiple players bid on the same horse, the new owner of the horse is determined via a random draw.
If you place a bid on a horse that's in a Claiming Race and win the claiming draw, you're the new owner of the horse for the exact amount you agreed to prior to the race. Yes — even if the horse wins the race!
In a Claiming Race, the prior owner will keep the Claiming Race purse and you walk away with the horse.
While a simple mechanic on its face, putting some thought into the strategy behind Claiming Races can create quite a competitive edge. Savvy players can put in the effort to look ahead at the Claiming Race schedule, find upcoming claiming races, research to find the horse(s) they like and place a bid.
You can also sit back and watch an under-the-radar horse you feel like you may be able to get a few free glances at before committing to a claim.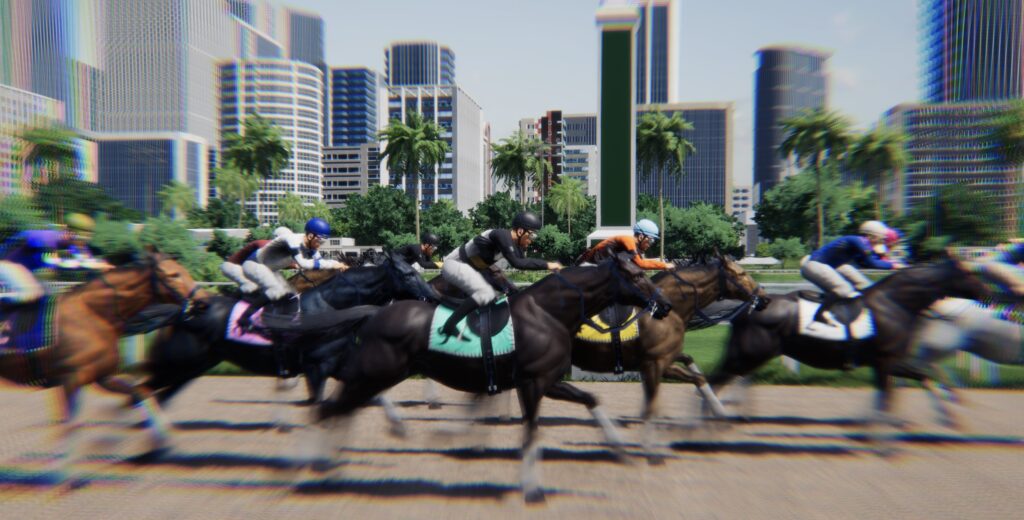 Why Enter a Claiming Race? 
There are over 600 million horse racing fans, but at times, it can seem like there are even more horses. With so many horses participating in the sport, it stands to reason that some horses won't be able to compete with the best of the best, but can still hold their own in competitions against equal talent. 
The great thing about Claiming Races is they're by nature a repellant to the best horses because any horse that dominates the Claiming Races circuit – or is even simply obviously out of place prior to their first-ever Claiming Race – will be quickly snatched up by a bidder. 
In Photo Finish™ LIVE terms, you won't be finding the best Generation Zero S grade horses entering a Claiming Race with a pre-set horse bid of 33,000 $DERBY. The rewards of winning a low-stakes Claiming Race just do not offset the pain of seeing a higher-grade horse being claimed for pennies on the dollar, so those entering this subset of races can expect to find the competition on a similar level.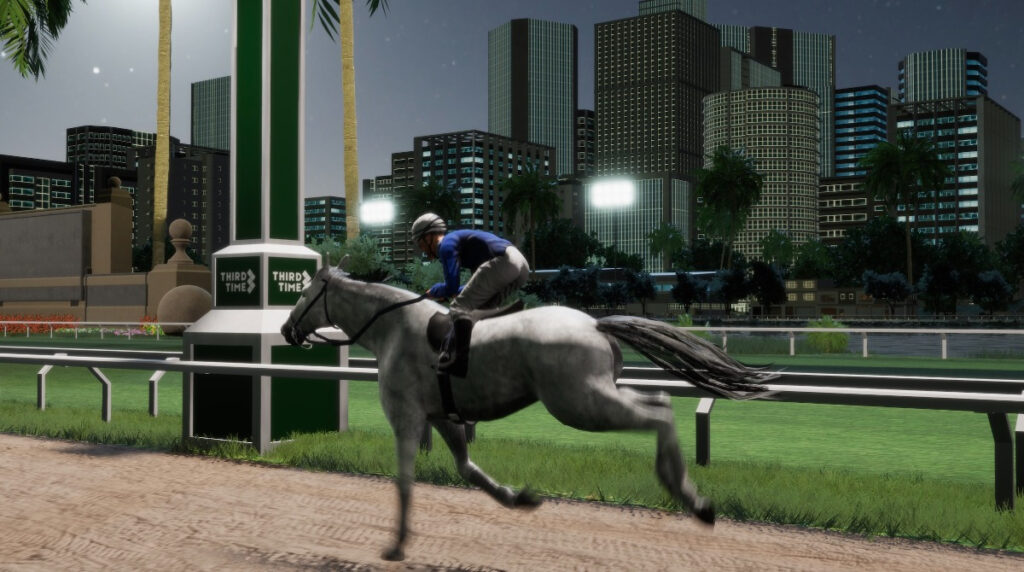 Why Claim a Horse in a Claiming Race? 
If you're wondering why you would choose to obtain a horse through a Claiming Race instead of buying one from the Marketplace,  the most obvious answer is that horses from the Claiming Race circuit are likely to be going to be cheaper than most Marketplace horses. However, the downside is that owners don't typically put their best horses up for claiming races.
Think of Claiming Races similar to that of players that are waived in professional sports. Sure, the Miami Dolphins may no longer have room for their third-string running back because they need the roster spot for a linebacker, but that doesn't mean that player wouldn't be a perfect fit for your team and at a bargain basement off-the-street price.
Whether you think you're on to a horse the current owner is neglecting to use properly, or looking to score a cheaper horse with a specific attribute you'd like for your breeding barn, Claiming Races are the thrift store of horse racing — you never know what you might find!
Claiming Races: All the Rage, For a Reason
Claiming Races aren't just popular because they provide a unique and exciting way to add to your stable and help ensure the game's fairness, they're the hottest thing going in horse racing because people love to find an edge in any competition, and Claiming Races are where that edge normally lives most. 
Need a real-life example of a horse being claimed and going onto bigger and better things? Look no further than Palace, a racehorse that was bought in a Claiming Race in 2012 for $20,000, and then went on to have a great career, earning $1,586,550 in winnings, and placing in the top 3 in 24 of his 30 career races!
But Claiming Races aren't always about the horses that get claimed, they can also be about the horses that weren't claimed. For instance – the legendary Seabiscuit ran in THREE $2,500 claiming races, but was never claimed! 
Thrice unclaimed, Seabiscuit then went on to win nearly $500,000, which, adjusted for inflation today would be nearly $11 million dollars!
Participating in a Claiming Race
As with any purchase, it's always important to be certain you've done an ample amount of research on entering your horse in a Claiming Race and/or making any bids on a claimable horse. While Photo Finish™ has made the process of accomplishing both sides of the Claiming Race transaction silky smooth, make sure to read the warnings and reminders within the process well to be certain you understand what you're signing up for.
The steps to enter a Claiming Race are rather straightforward:
Select a Claiming Race
Select the 'Register' button to choose which horse you'd like to nominate for the Claiming Race
Confirm entry and review all parameters
Click the 'Continue' button
For a community perspective on Claiming Races and a step-by-step look at the entire process of entering a horse in a Claiming Race and placing bids, check out this blog from PFL onboarding guru David HRC