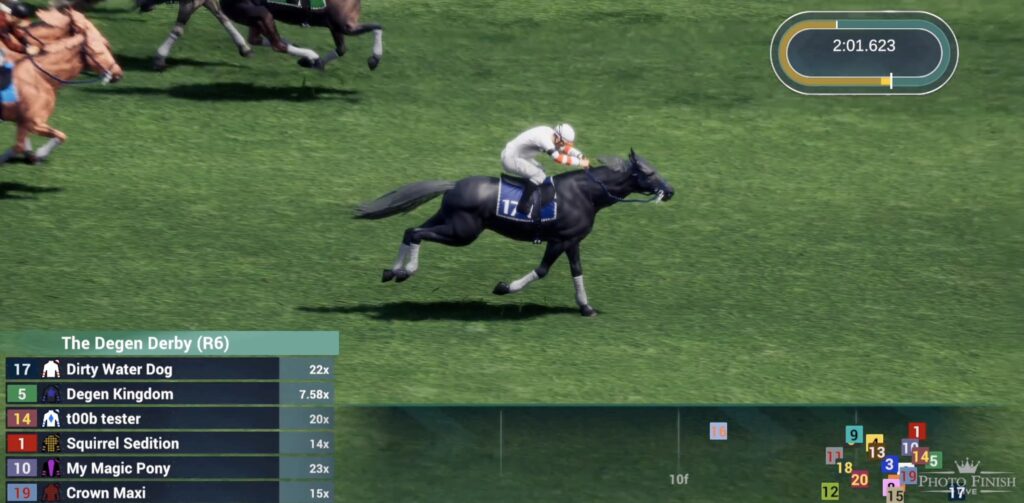 The hangover is real, but the party was well worth the recovery –  days later, everyone is still absolutely beaming in the aftermath of an epic first running of the Degen Derby!
On Friday night, two hours of undercard fun culminated with an extraordinarily entertaining $10,000 Degen Derby won by Dirty Dog Water, the racehorse representing East Coast Stables.
If you missed the live action on Twitch, or just want to re-live the excitement, well, you're in luck – we recorded it!
You can go back and rewind all the Degen Derby fun here.
Degen Derby Undercard Results
Five undercard races delivered the goods in the run-up to the big race, with some exciting finishes showcasing some of the best horses Photo Finish™ LIVE has to offer under the brightest of lights.
A special thanks go out to our incredible community for putting on an extraordinary undercard show.
The results of each race can be found below:
The Downbad Dash: Winner – Serena's Star (GvT in Wimbledon)
Prix De L'Dog Coin: Winner – Rolls Royce (abSOLute Horsepower)
Funds Are Safu Stakes: Winner – Nightcrawler (BigBrain Stables L)
Bahamian Open Cup: Winner – Cheesy Mudder (Cheese Racing)
Wen Moon National: Winner – Curly (SOLmate Stables)
The $10,000 Degen Derby Results
On Black Friday, The Degen Derby featured an incredible storyline, one that had even our hosts unable to believe what they just witnessed.
Appearing on stream as a guest during the Undercard Show, East Coast Stables brought the heat, as he and the Knights of Degen co-host crew – two teams with a long history of big clashes in the play-and-earn space – had a good-natured back-and-forth of smack talk in the lead up to the big race.
During the race, both teams found their horses initially lost in the crowd, not appearing towards the front of the 20-horse pack. A frantic dash to the front however found Knights of Degen horse, Degen Kingdom, leading with just meters to go, creating distance between itself and the competition, and seemingly on its way to a big win.
But, not so fast. In the words of our fantastic community race caller Mo — racehorse's in the rear-view mirror may be closer than they appear.
With 100m left, East Coast Stables' Dirty Water Dog exploded into the lead, passing Degen Kingdom to complete an epic comeback Degen Derby victory.
If you'd like to relive the race in its purest form on the Photo Finish™ LIVE site, click here for a replay. We suggest you watch it sitting down.
Side note: Read CEO and Founder Ian Cummings weekend blog on the craziness that unfolded, and Third Time Game's dedication to the transparency of race results.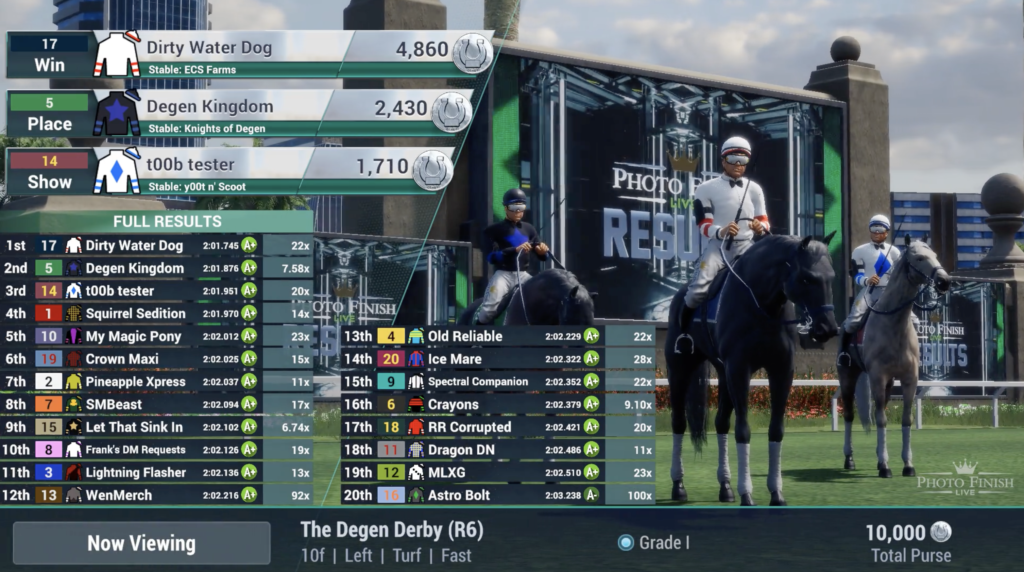 The Winner's Circle
Obviously, we had to get some comments from East Coast Stables after his thrilling Degen Derby win. And equally expected — he was feeling himself, happy about the outcome, and more than willing to talk about it.
"Honestly, it feels amazing! Going into the race I knew I had a horse that was more than capable of getting the job done. I'm certainly glad he was able to put on a great showing." ECS said.
While having previously purchased some horses, Friday's appearance in the Degen Derby was his first true foray into Photo Finish™ LIVE. While not exactly taking off his shoes at the door, shaking hands, and exchanging pleasantries, ECS says he comes in the name of fun. He also said the Derby was a good chance to introduce himself to a new crowd of virtual horse racing fans, one he expects to get to know better following the race.
"I have met many fantastic people in the PFL community, so it was nice to be able to have them learn a bit about me!"
After his first experience being embedded in the community, game research, and a big Photo Finish™ LIVE event, ECS said he can see why so many are high on the future of the game as the launch of real money racing and wagering nears.
"The future is surely exciting at PFL," ECS said. "When you combine their fun factor with a great team and great people, it is hard not to see how they'll succeed."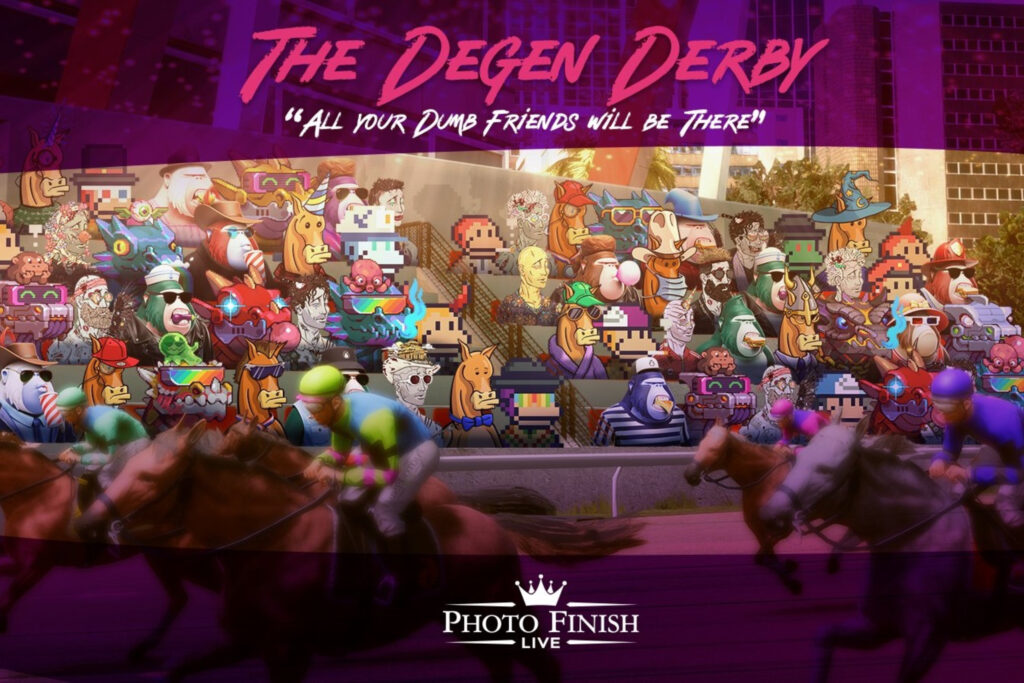 The Payouts
Photo Finish™ LIVE is incredibly thankful to all the teams that participated in the Degen Derby. Without all 20 teams, there is no Degen Derby.
Thank you for coming to our party big dumb party. You're all invited back anytime.
Below is a breakdown of the $10,000 Degen Derby prize earnings:
First Place ($6,000): Dirty Water Dog
Second Place ($1,440): Degen Kingdom
Third Place ($720):  t00b tester
Fourth Place ($240): Squirrel Sedition
In addition to the above purse payouts, each horse finishing 5th-20th will receive $100 for its efforts in the Degen Derby. Our team is coordinating payouts to all participants as we speak.
Special Thanks
We'd be remiss if we didn't thank those community members that made the Degen Derby our most entertaining live event yet. Thanks to those that worked on lending agreements with our participants that helped ensure the best horses put on a show in a competition that couldn't have been more close and competitive.
Big thanks to KOD Media hosts Pony Zook and DoughBoy for lending their good vibes and immense talents to the Degen Derby Twitch streaming event. Also, thanks to KOD Media Director of Content Jigga for his help coordinating things throughout the lead-up to the race.
Last, but not least, a huge shoutout to our incredible community race caller Mo for delivering an impeccable call of the Derby finale. If you didn't know any better you'd think he called the ponies for a living. We're lucky to have you, Mo!