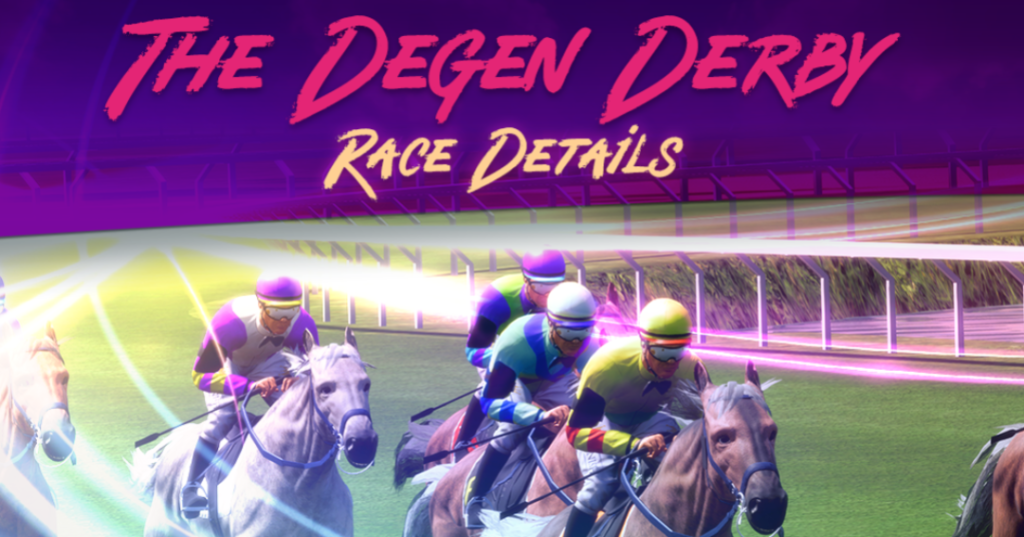 Airports around the world are packed with family members traveling into town specifically for this special occasion. 
Refrigerators and liquor cabinets are being stocked with everything needed for an epic celebration partygoers have had circled on their calendars for months. 
Final preparations are being made for what will surely go down as a day few will soon forget, and many will talk about for years to come. 
That's right, the time has finally arrived – it's Degen Derby Day at Photo Finish™ LIVE. 
What, was something else going on this week?
With the November 25 $10,000 Degen Derby just hours away, let's dive into everything you need to know about the place where all your dumb family members and friends will gather the day after that other less publicized holiday.
What is The $10,000 High-Stakes Degen Derby?
We've invited all our (dumb) web3 friends to join us at the virtual racetrack for the Degen Derby – a $10,000 high-stakes race between 20 of our closest peers.
The Degen Derby is meant as a celebration and exploration of Photo Finish™ LIVE's just-released Beta V2. Think of it as our little housewarming party, only instead of receiving gifts from our guests, we're giving them $10,000 in return for providing the party's entertainment. 
The ten-furlong Degen Derby race features race day preferences of left turning, firm, and turf track, with an A+ grade horse limit set to keep the competition on an even playing field. 
Where to Watch
The Degen Derby festivities kick off live on November 25 at 5 PM on the Third Time Games Twitch channel. 
The fun will begin with the Undercard Show hosted by Photo Finish™ LIVE CEO and Founder Ian Cummings and members of both the Photo Finish™ LIVE and KOD Media teams. 
Degen Derby guests will also be dropping in during the pregame show to chat about the 7 PM race.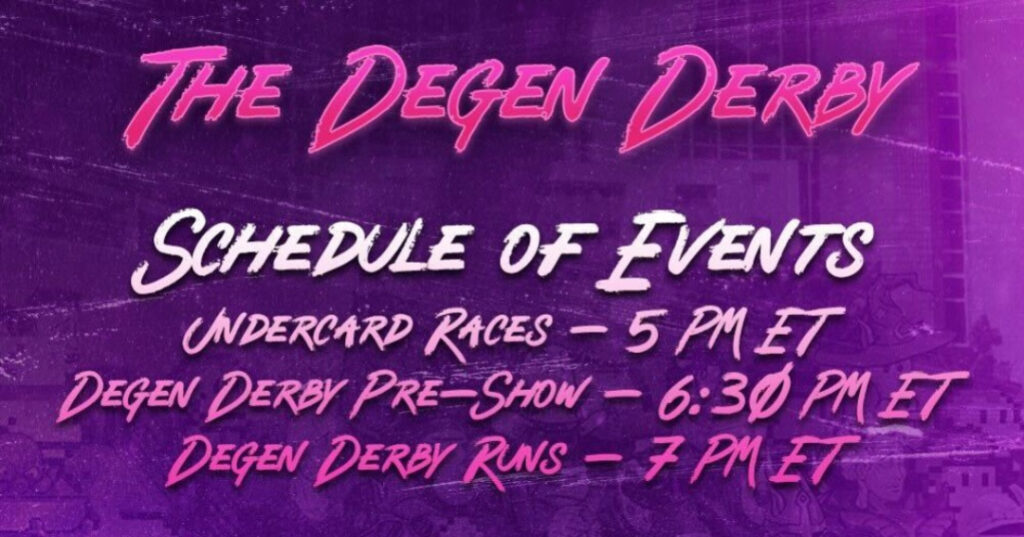 The Undercard: 5 PM-7 PM
Beginning with The Downbad Dash at 5:15 pm, undercard races will periodically run prior to the 7 PM Degen Derby.
All Undercard races were open to the Photo Finish™ LIVE to join. 
Full Undercard Schedule:

The Degen Derby Presented by Magic Eden: 7 PM
Ittttttt'sssss TIMMMMMME! 
In the spirit of the holiday giving season, some of the Degen Derby's 20 participants have chosen to share the opportunity with some of our upstanding community members, entering into a shared-profit lending agreement. 
Let's get to the degens that have bravely stepped up to the plate for a swing at Degen Derby glory. 
The Participants | The Horses
Who are the participants, and what horses have they entered into the high-stakes $10,000 race?  Take a look at each gate in the race and which team will occupy it. 
May the odds be ever in their favor.  
Gate 1: Liberty Square – Liberty Steed
Gate 2: Sea Shanties – Pineapple Xpress
Gate 3: Degen Trash Pandas – Lightning Flasher
Gate 4: Catch King Stables – Old Reliable
Gate 5: Knights of Degen – Degen Kingdom
Gate 6: DAA Stables – Crayons
Gate 7: MonkeDAO – SMBeast
Gate 8: DeStables – Franks DM Requests 
Gate 9: Galactic Geckos – Spectral Companion
Gate 10: Magic DAO – My Magic Pony
Gate 11: Boryoku Dragons – Dragon DN
Gate 12: Catalina Whale Mixer – MLXG
Gate 13: The Fracture – WenMerch
Gate 14: y00ts – t00b tester
Gate 15: Elon DAO – Let That Sink In
Gate 16: Astro Kongs – Astro Bolt
Gate 17: East Coast Stables – Dirty Water Dog
Gate 18: Reptilian Renegade – RR Corrupted
Gate 19: Own The Moment – Crown Maxi
Gate 20: Elio | The Syndicate – Ice Mare