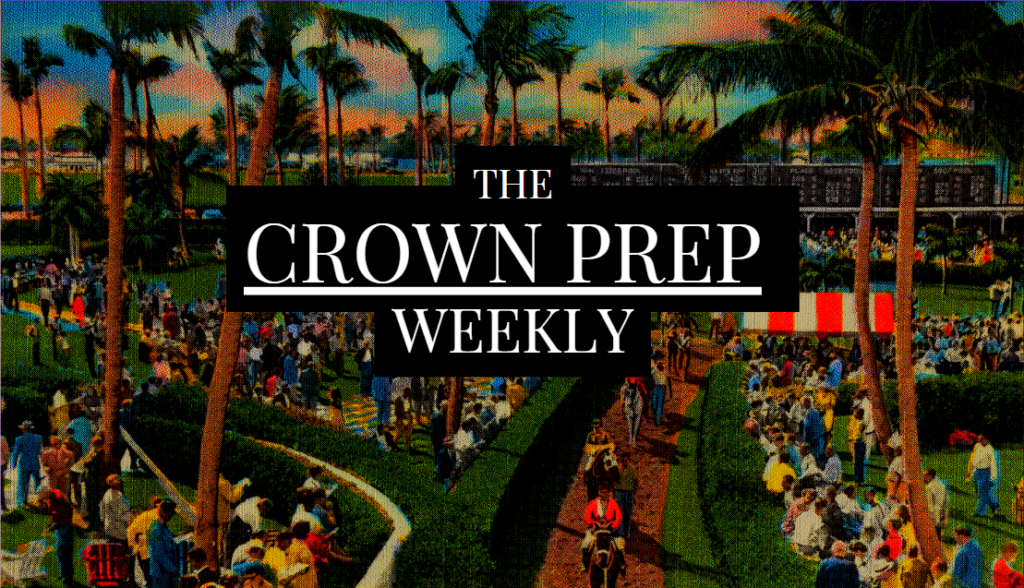 Saturday night saw twelve grade I stakes races we here at the Third Time Raceway, Dogtrack, Casino and Metaverse Hotel call the Crown Prep Sprint Series.

This series of races attracts the top stables in Photo Finish LIVE, they are a chance to see what races look like at the tippy top of the hierarchy – to get familiar with some of the eminent stables that have established themselves through Beta V1 and are now angling to further establish their LEGACIES in V2.

Let's get into this week's results.
Placements
1st – James Jamerson (La Playa Farms)
2nd – Mightiest Mouse (Big Brain Stables)
3rd – Bugatti (abSOLute Horsepower)
Mightiest Mouse of Big Brain Stables led the race through the second turn to be overtaken by James Jamerson in the final stretch and ends up placing, followed by Bugatti of abSOLute Horsepower to show.
1st – Baja (Golden Stables)
2nd – Cheesy Fingers (Cheese Racing)
3rd – O1ympias (Ba11thazar Mangers)
Baja set a grueling pace, leading the pack around the short 5f sprint and closing it out down the straightaway. Cheesy Fingers was the only one to challenge, and ended up pulling out from the pack late to place. O1ympias to show through the final scramble.
1st – Rain dancer (SOLmate Stables)
2nd – Jaja Ding Dong (DeStables)
3rd – Will D. Cat (Gaucho's)
The clouds broke and it began to rain shortly before the start of the race – enjoyed by none other than Rain Dancer as he stalked his way to the W, closing it out ahead of the race leading Jaja Ding Dong of DeStables, who placed by half a length. Will D. Cat beat the pack to show a length behind. 
1st – Perlino (SOLmate Stables)
2nd – Aston Martin  (abSOLute Horsepower)
3rd – Nightcrawler (BigBrainStables L)
After leading from the gate and pulling away on the two turns, Nightcrawler was outpaced by Perlino and Aston Martin on the final stretch. Perlino managed to barely hold on to the pace necessary to close it out in 1st – a photo finish!
1st – Jaco Pastorius (La Playa Farms)
2nd – Steady Lads (Golden Stables)
3rd – Run Amok (Wolaf The Bandito)
Out of gate, Run Amok led the pack – contested and eventually overtaken by Cheesy Tortilla of Cheese racing, but… once the cheese melted on the final stretch there was Jaco from the outside to win, closely followed by Steady Lads and Run Amok within a length!
1st- Durban Poison (Bandito Stables Sur)
2nd – Bourbon (BigBrainStables RT)
3rd – Rocky (Golden Stables)
A drizzle falls on the green turf as Durban Poison breaks away and stays away to close out a win by a length over a contentious pack led by Bourbon and half a length behind – Rocky.
1st – Talk Derby to Me (Meta4Farms)
2nd – Grenache (GvT in the Weeds)
3rd – Scott Street (Hollywoo Stables)
Chasing an impossible pace, S-hadow/Scott Street/Grenache push each other to the limit. The final stretch and out of NOWHERE comes Talk Derby to Me through the battling top 3 as S-hadow falls into the pack and Scott Street shows by a whisker.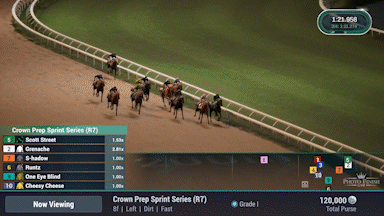 1st – Thundercrack (SecretariYat Stables)
2nd – Bentley (abSOLute Horsepower)
3rd – Montana (Golden Stables)
A six-horse race, Bentley takes an early lead and maintains it until Thundercrack slingshots out of the back pack to take the race in the final stretch, chased to the front by Montana of the ubiquitous Golden Stables – but Bentley maintains and closes it out in 2nd by a length.
1st – White Widow (Bandito Stables Sur)
2nd – Cheesy Hair (Cheese Racing)
3rd – Thyson n Jerrys Son (Grape Syndicate)
The first of the 11f races, stamina is tested by Rosalita of the Banditos until turn four, Cheesy Hair begins to lead but falls back into the last bend while White Widow shows up at the front of the pack and battles Thyson n Jerrys Son for first… but there's Cheesy Hair back from the dead – to place!
1st – Better Than Most (RVA Racing)
2nd – Mother Alaska (Golden Stables)
3rd – W1lliam Travis (Ba11thazar Mangers)
An end to end WIRE by Better Than Most with most of the action in the shifting pack – W1lliam Travis staying in the fight but overtaken in a beastly push through the last turn by Mother Alaska to show.
1st – Community Legend (SoCal Stables)
2nd – Rolls Royce (abSOLute Horsepower)
3rd – Cheesy Feet (Cheese Racing)
Community Legend with a legendary wire on the dirt, Rolls Royce to overtake Clown Baby in the last leg with an outside push to show by Cheesy Feet representing Cheese Stables – another one on the board!
1st – DNegs (Steelheart Stables)
2nd – McLaren (abSOLute Horsepower)
3rd – Born to Run (SecretariYat Stables)
In the final race of the night… pure DRAMA as Dnegs sets an early pace in which a 5 horse pack forms – the positions are shifting, McLaren a mainstay, Born to Run round tripping from 5th to 10th to 2nd… but in the final stretch it is DNegs by a mile!
What a night at the races… we will be tracking the current V2 season as it develops, make sure you are following these horses and these stables – some of them are so consistent it seems like a handicappers dream!
See you on the track 🥕.