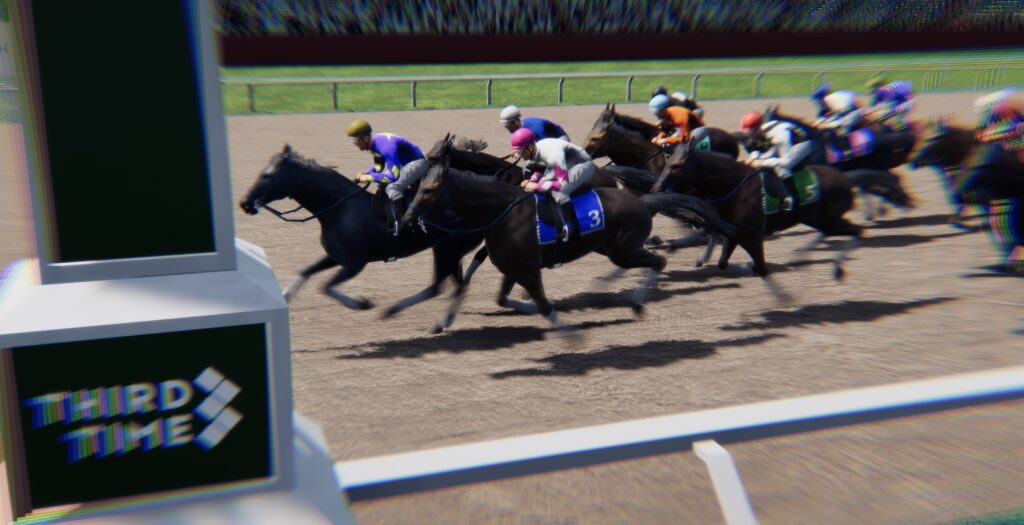 Welcome to the Official Launch Day of Photo Finish™ LIVE!  
It's been a helluva journey from Mint Day to Launch Day, but we're just getting started carrying out Third Time Games' mission to deliver the greatest horse racing game the world has ever seen.
Let's set the stage and cover a little bit of what players can expect to greet them at the door when they enter a fully live Photo Finish™.
What to Expect
From the activation of many of the much-anticipated core aspects Photo Finish™ was built upon, to the unveiling of new and polished features Third Time developers have been working on for months, there will be plenty to be excited about and dive into.
Live Launch Week Schedule
The live version of Photo Finish™ has officially arrived, but we're taking a soft open approach to ensure everyone gets themselves right before we turn on the bright racetrack lights and release the horses.  
Below is a tentative schedule of events planned for the week. 
Today, April 24: We're LIVE! Redeem your tickets, name your stables, set up your custom colors and jockey silks, get your spreadsheets warmed up and ready. 
Tuesday, April 25: Twitter Spaces AMA with CEO Ian Cummings
Wednesday. April 26: The racing schedule is made available 
To reiterate – from now until Wednesday we're inviting everyone to come in, grab a chair, and get comfortable before the show begins. On Wednesday, we race again.
Here are just a few items we wanted to highlight heading into the big day.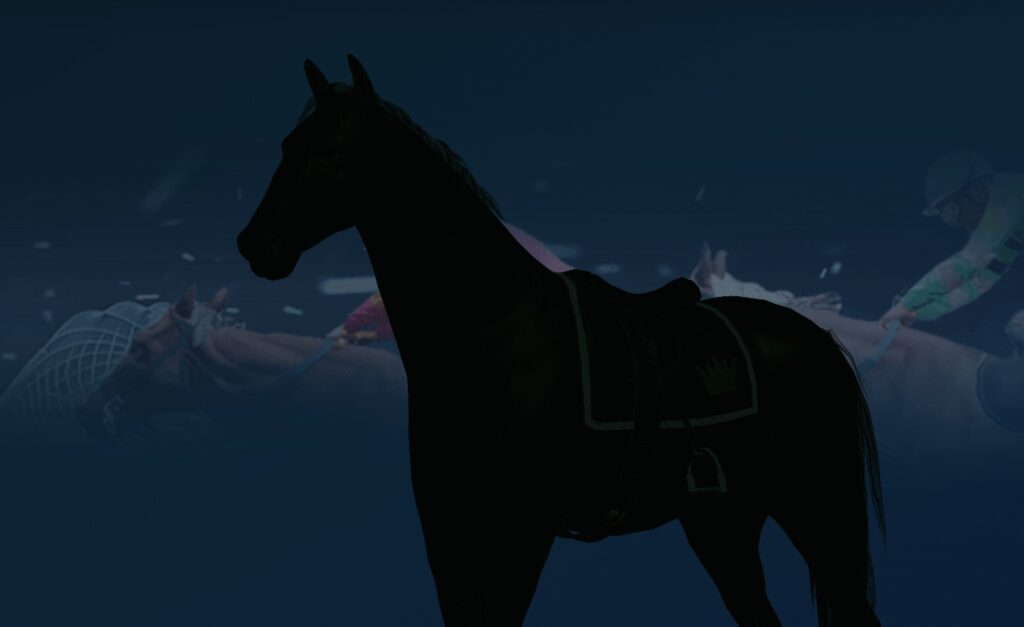 The Great Burn: Generation Zero Circle of Life Begins
The Great Burn is upon us! 
You know what they say – use it, or lose it. Now is the time to burn all those Generation 0 horse tickets you've been holding in return for the real thing – a foundational Photo Finish™ racehorse. 
The aging clock begins as of April 24, and there is no benefit to holding an unredeemed ticket in your wallet, so burn baby, burn! 
Crown Staking
Players who have long dreamed of the day when they'd be capable of using their $CROWN tokens to take a deeper role within the Photo Finish™ LIVE ecosystem may now do so. 
With $CROWN staking and new Photo Finish™ racetracks now live, players are now able to work together (or competitively) to acquire "officially sanctioned operators licenses" of Photo Finish™ in-game tracks. Entrepreneurship in a video game with web3…the future is here! 
If being the owner of a racehorse such as the 2022 Kentucky Derby winner Rich Strike is a dream come true, running your very own track might become a truly recurring dream.
Oh, and more on our racetracks – yes, plural – below.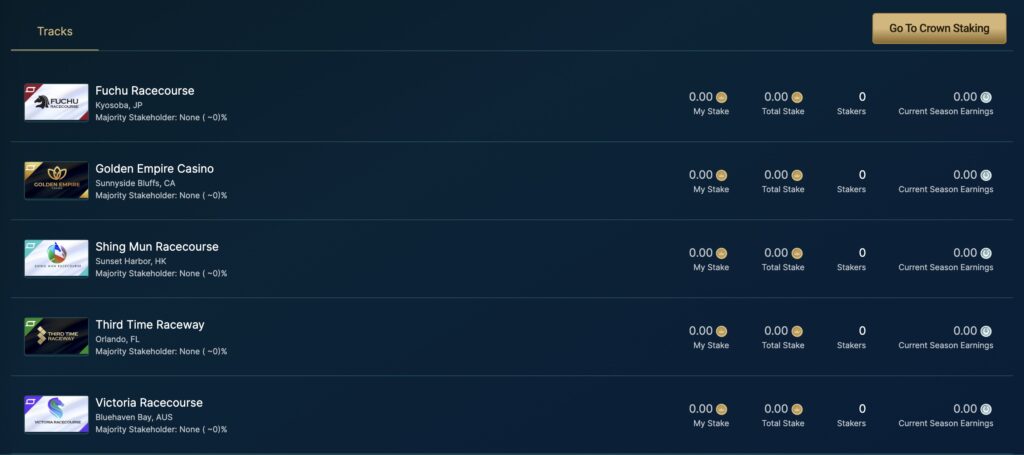 New Tracks
Photo Finish™ now consists of five racetracks – kind of! 
While the release of the 3D renderings of each track is super-close to release, players will notice some races already being assigned to racetracks they don't recognize. The reasoning behind that is simple – we wanted to ensure you could stake your $CROWN and earn a piece of the revenue generated on these racetracks, even if the visuals themselves aren't yet live. 
Think of it how people invest in real estate before it's built. It's like that. 
Below are the names of the news tracks players will notice populating the Race Entry page: 
Fuchu Racehorse (Japan)

Golden Empire Casino (California)

Shing Mun Racecourse (Hong Kong)

Third Time Raceway (Orlando)

Victoria Racecourse (Australia)

Trainer Horses
Have you ever tried to convince your friends or family to sign-up for Photo Finish™, but wished there was an easy way to let them give a horse a test drive? 
Wish no more – Trainer Horses are here!  
Every stable now has a Trainer Horse, a free-to-play asset eligible to only race in free-entry races. That means no breeding, selling, or retirement – just a life filled with running for the love, and education of the game.
Thank You
With Beta in our rearview mirror and an entirely new challenge on the horizon, the Third Time Games team would like to once again thank our incredible community for its unwavering support.
Today would not have been possible without you, and we're incredibly thankful to have worked alongside you all in the lead-up to this moment. 
Now let's go show the world what the future of gaming looks like.