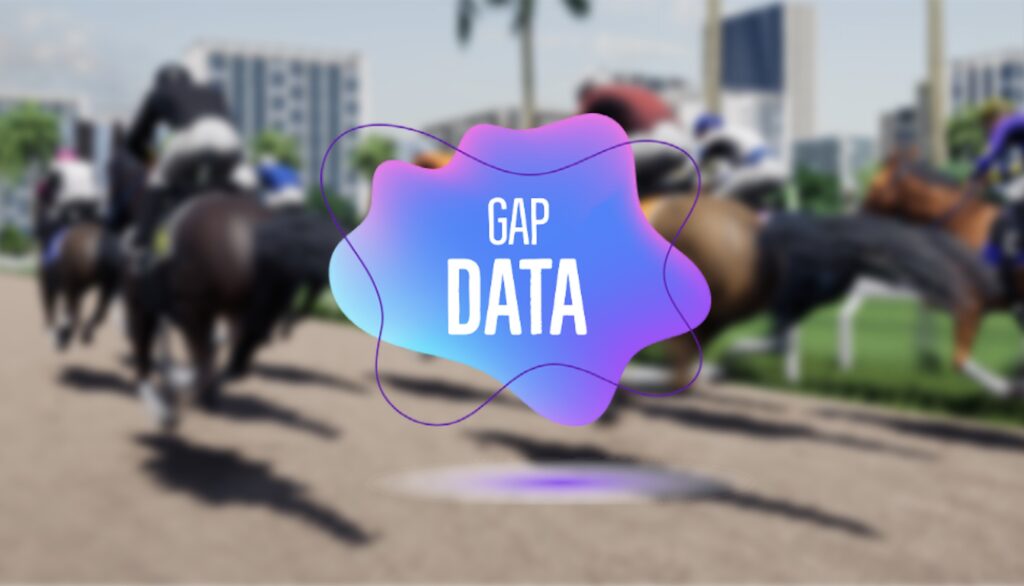 In the virtual horse racing world, the utilization of data and analytics have become increasingly key for players seeking a competitive edge.
Enter GAP Data — a new third-party tool developed by a group of Photo Finish™ LIVE players themselves embedded in the game.
Just a few weeks old, GAP Data's innovative approach to PFL race data analysis is already making waves in providing invaluable insights to the community.
Gaining momentum, GAP Data took a moment to chat with us about what their tools offer, and how a comprehensive suite of data analytics can better provide players a deeper understanding of their horses and stable racing performance.
Photo Finish™ LIVE: We've seen a lot of chatter about the data your team has been providing. Can you give us the GAP Data utility-based elevator pitch, and who is the team behind its development?
Gavan Flower (Gavone72): The tool will be under the banner of GAP Data, which stands for the two founders, namely @Gavone72 (Gavan Flower – Flower Farms) and @padraicbc_ (Padraic Cunningham)
In short — GAP Data is an analytics-based dashboard tool that helps Photo Finish™ players make decisions. 
PFL: Is GAP Data a free service, or does it require a subscription? 
GAP Data is totally free of charge.
Down the track, we may charge something small to try and recover some costs, but we are a long way off that for now. If we do ever add paid services it will be for "premium" content, such as forms, guides, market analysis, and things of that nature.
PFL: For those unaware, what features does GAP DATA offer that will enhance players' decision-making?
Gavone72: We are building a full suite of data analytics, ranging from detailed horse and racing analysis to our patented GAP Rankings.

GAP Rankings will work through a thorough hybrid-ELO process, where each horse is scored on its results and is weighted for basic race information like buy-in and type/grade. This is then aggregated to form a base score.
From there, these base scores will then be used to rate the difficulty of each race, and these difficulties are then used to produce the final GAP rating score based on the horse's place in that race. 
The algorithm is evolving in line with how the game is evolving. As we gather more data, we will introduce score erosion for time and performance, and other tweaks, to ensure the most informative scoring system available. 
These methods are techniques I have applied to various sports over 30 years of sports analytics, and in particular, IRL Australian Horse Racing at gavonebet.com.
Of course, any comments and suggestions are most welcome as we refine the product.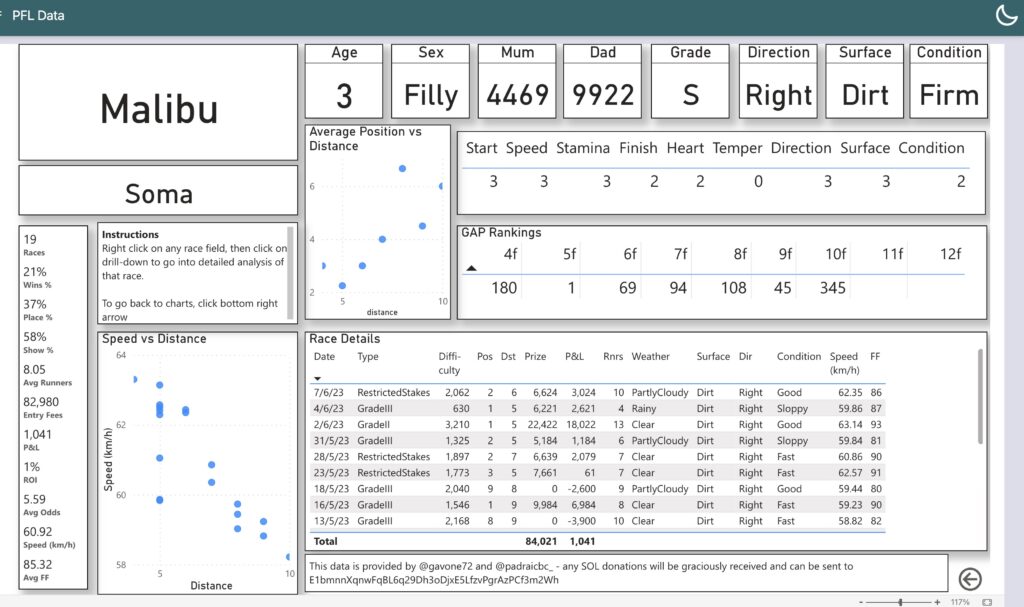 PFL: How does your tool help players make more informed decisions?
Gavone72: GAP Data aggregates and presents a wealth of rich data in a consumable form, which ultimately assists players to make better decisions.
My IRL job is as a CFO for many of Australia's largest companies. In these roles, it is a primary skill to aggregate complex financial information into a consumable form. I apply this knowledge and experience to the data that is presented.
PFL: You've requested feedback from other players. What has been the general response to the tools, and what feedback has been most valuable?
Gavone72: The responses have been brilliant and constructive, both through direct messages and in the Photo Finish™ Discord.
I see the community as very smart, and their insights as to what they want to see have been brilliant in steering us in the right direction. 
We continue to build and will listen closely to everything our community says as we develop GAP Data.
PFL: Are there any plans to expand or add new features to your tool and dashboard in the future?
Gavone72: Yes, most definitely. What you are seeing is just the start. We will continue to evolve our product with the game and community needs.
We are both in for the long haul and cannot wait to see what the future holds for Photo Finish™.
PFL: Are there any specific strategies or tips you would recommend to players using your tool to maximize their chances of success?
Gavone72: Until breeding is unleashed on June 26, race selection is the most important strategic element currently in the game.
Using the GAP Data tool to assess exactly where your horse is greatly assisted in your understanding of what races you should be entering. 
Personally, I've found the race difficulty score, which can be drilled down from the main Power BI page, very useful, as it puts any results into context by providing some insights into the relative strength of the field.