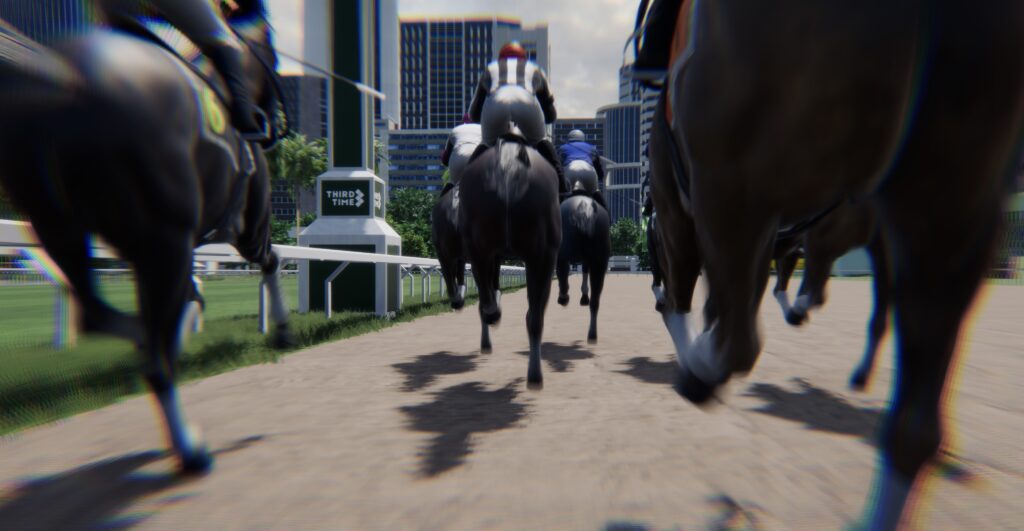 When the dust settles, this April will be forever known as the month when everything changed at Photo Finish™ LIVE.
Between news that PFL will be featured during NBC's telecast of this year's Kentucky Derby, the end-of-the-month live launch, and some even bigger news dropping any day now, you'd be hard-pressed to find a month more pivotal to the success of our happy little corner of the blockchain
We're excited. And you should be, as well.
This weekend, just under $3,000 was awarded between the slate of Crown Prep Sprint Series races and the Third Time Derby, a number that seemingly continues to grow each week.
Let's take a look at this weekend's big race winners.
Third Time Derby Champion: Ace King | Elder Racing
As this Saturday's Third Time Derby came down the final 200 meters, a pack of stables that have never won the Derby were in contention for the week's biggest crown.
With 100 meters left, it became apparent a photo finish was in order, and with 25 meters left, Elder Racing's racehorse Ace King pushed its nose just across the competition to deliver the big win.
This is what it's all about, and just a glimpse into the future of Photo Finish™ LIVE.
Huge congrats to Elder Racing for coming up big when it counted most. You absolutely love to see it.
Crown Prep Sprint Series: The Winners
What's real money racing look like? How is 192,500 $DERBY equating to over $2,400 being on the line in Saturday night's Crown Prep races?
Yeah, we'd say we've come a long way in our Beta journey. Cue the Paul Rudd look at us gif.
Congratulations to his week's Crown Prep Sprint Series winners!
| | | | | | | |
| --- | --- | --- | --- | --- | --- | --- |
| Race Number | Distance | Surface | Purse | Entry Fee | Grade | Winner |
| R1 | 5F | Dirt | 17.50K | 3.50K | I | General Duke |
| R2 | 8F | Turf | 14.00K | 3.50K | I | Keyser Söze |
| R4 | 4F | Turf | 17.50K | 3.50K | I | Opus 1 |
| R5 | 7F | Dirt | 38.50K | 3.50K | I | Olive Lussi |
| R7 | 6F | Dirt | 24.50K | 3.50K | I | Mightiest Mouse |
| R8 | 9F | Turf | 24.50K | 3.50K | I | Big Balls |
| R9 | 12F | Dirt | 21.00K | 3.50K | I | Lagavulin Neat |
| R10 | 4F | Turf | 17.50K | 3.50K | I | S RTS Girl |
| R12 | 12F | Turf | 17.50K | 3.50K | I | Anton Chigurh |