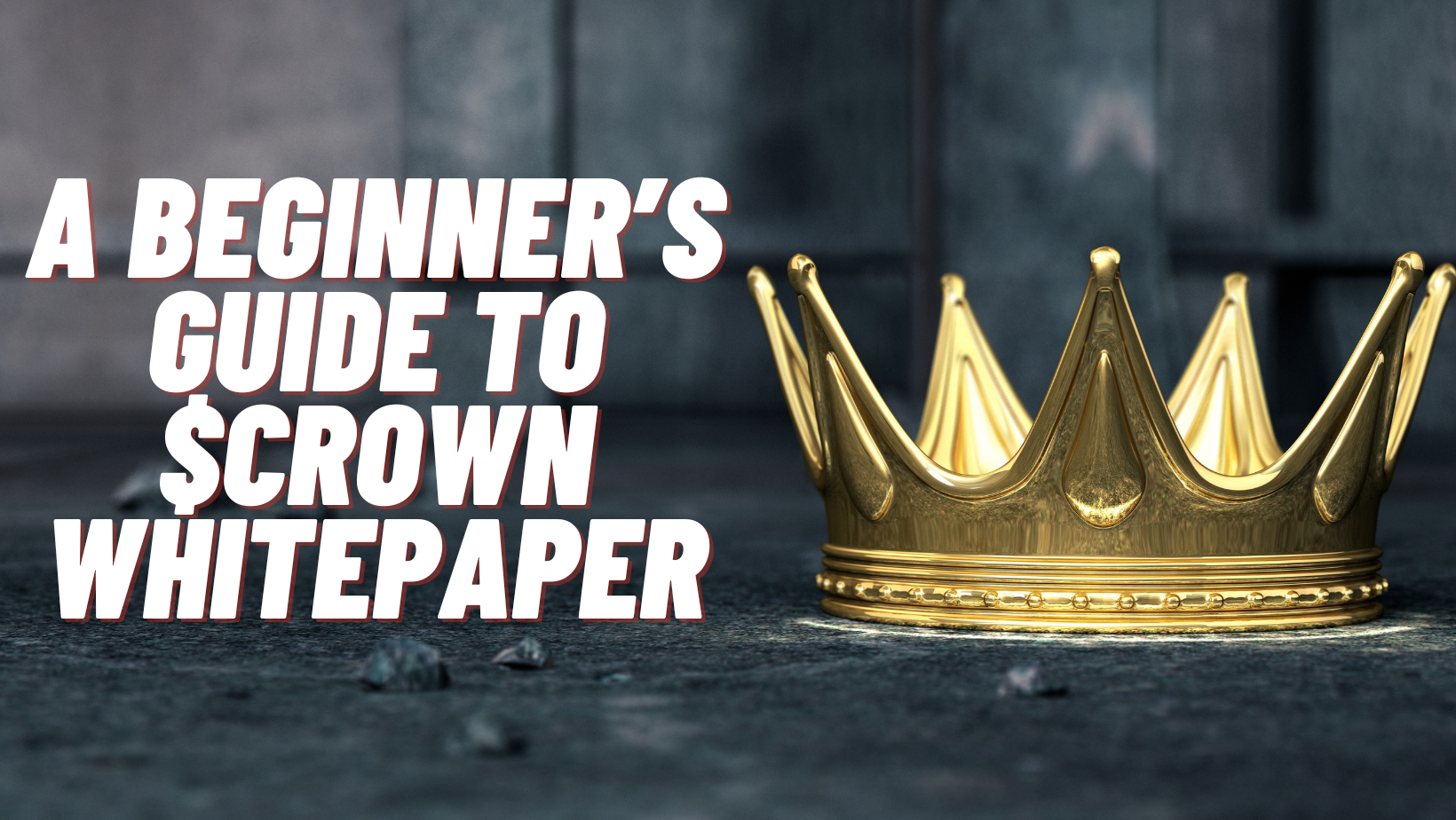 Let's be honest — most people don't have much experience dissecting token whitepapers. But it's become a commonly accepted necessary aspect of many Web3 projects.
Regarding Photo Finish™, you want to understand the shortest distance between horse and success, but digging in deep to understand CROWN is the bridge you first must cross.
No worries, new friend. As they used to say in school, there are no stupid questions, only stupid answers.
If you're new to CROWN, consider this a five-minute crash course that uses a simplified version of its whitepaper to guide you through the basics to get you to the right answers, quickly.
What Is CROWN?
You can think of staking CROWN as acquiring a license to operate your company. It comes with a twist – you earn some race entry fees in DERBY, the in-game currency.
The more CROWN you own and stake, the more your hard work as a racetrack operator can pay off in virtual currency that you can use to grow your empire;
CROWN is the official utility token of the Photo Finish™ LIVE virtual horse racing ecosystem.
CROWN is more than just a token; it's a Web3 concept that allows you to own virtual horse racing tracks and earn rewards in a real-money racing ecosystem.
The more CROWN you own and stake, the more your hard work as a racetrack owner may pay off in potential real money rewards.
The Technology Behind CROWN
CROWN operates on the Solana blockchain, using a token standard called SPL.
Beginner's Note: An SPL, or Solana Program Library, comprises programs that facilitate the creation and management of tokens on the Solana blockchain. These SPL tokens are akin to ERC-20 tokens on Ethereum, adhering to a standardized framework for the generation, transfer, and administration of custom tokens.
Using an SPL offers several advantages:
High Speed: Thanks to Solana's transaction processing capabilities, CROWN transactions are fast and efficient, ensuring a seamless user experience.
Low Fees: With low transaction costs on Solana, CROWN holders can carry out various operations without breaking the bank.
Scalability: The Solana blockchain can grow with increasing demand without compromising speed and performance.
Security: Solana's robust security features ensure the safety of user assets and transactions within the Photo Finish™ LIVE ecosystem.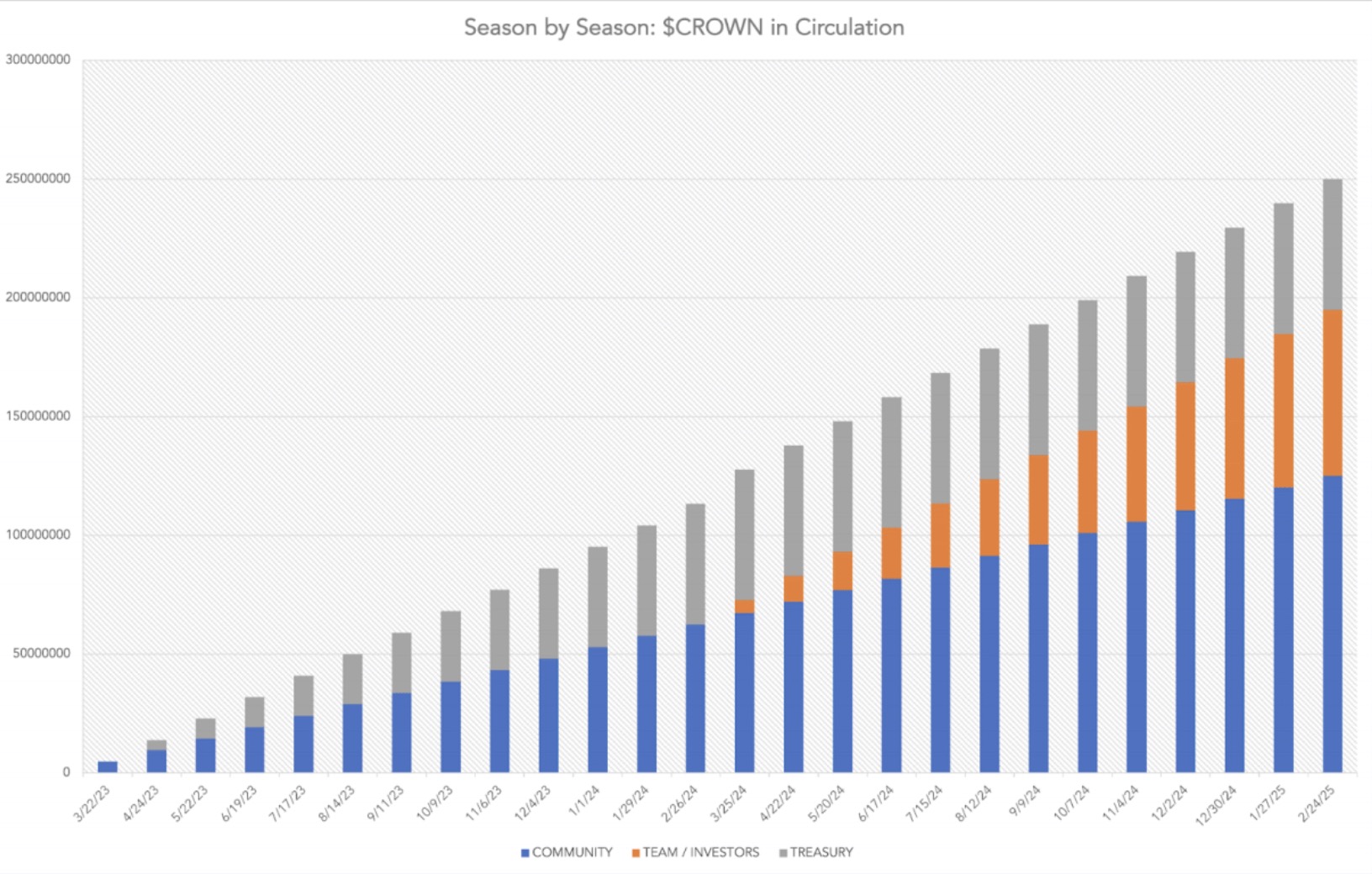 Tokenomics Made Simple
Token Allocation (who gets what!)
Total Lifetime Supply: 250,000,000 $CROWN
Staking Rewards: 125,000,000 $CROWN (50%)
Team & Investors: 70,000,000 $CROWN (28%)
Ecosystem: 55,000,000 $CROWN (22%)
Token Distribution (who gets what, when!): CROWN's distribution is closely tied to the "seasons" in Photo Finish™ LIVE. Each season lasts 28 days, which represents one year in the game.
The tokens are released gradually over time for each category.
Staking Rewards:
50% of supply
125M $CROWN
4.8 million tokens are added to the staking pool every 28 days for two years.
Team & Investors:
28% of supply
70M $CROWN
This allocation is subject to a 1-year lockup, releasing linearly over two years.
Ecosystem:
22% of supply
55M $CROWN
This allocation releases 4.23 million tokens per season for one year, with variability based on racing amounts.
Token Utility – Earning with CROWN
CROWN's primary utility (see: its purpose) is to acquire "operator's licenses" for racetracks within Photo Finish™ LIVE. When horse owners pay an entry fee in DERBY, a portion goes to track operators.
You can stake your CROWN to get a piece of the action, and the majority owner of a track's license enjoys additional perks like naming rights and track customization.
When horse owners pay an entry fee in $DERBY, they compete for a prize usually worth around ~80% of the total entry fees through the track. The operators and license holders are trying to incentivize and bring more 'action' to the track.
As of Season 7, over $612,000 in DERBY has been returned to CROWN holders for their hard work in ensuring the Photo Finish™ racetracks were active.
CROWN Roadmap – What's Next?
CROWN's journey has started with the global launch of Photo Finish™ LIVE.
However, there's more to come, including:
Stable and Track Customization
Race Creation
Advanced Reports and Analytics
VIP Systems and Rewards Programs
Security and Compliance
Rest assured, Third Time Entertainment takes security and compliance seriously.
Legal experts have thoroughly reviewed CROWN to ensure it complies with regulations. As an in-game utility token, CROWN's primary purpose is to enhance the gaming experience, making it a safe and secure choice for users.
More CROWN Research
If you take nothing else away from this blog, remember this — CROWN is about ownership.
Now that you've got a quick rundown of what CROWN is dive deeper by reading the full whitepaper and detailed content provided by the players.