Third Time Games is thrilled to announce the Inaugural Photo Finish™ LIVE Virtual Kentucky Derby will take place on Saturday, July 1st! 
The first-ever Photo Finish™ LIVE Virtual Kentucky Derby marks the beginning of a groundbreaking multi-year partnership between Third Time Games and Churchill Downs that aims to merge the rich history of the Kentucky Derby with the cutting-edge innovation of Photo Finish™ virtual horse racing.
Virtual 'Road to the Derby'
Beginning on Monday, June 26, Photo Finish™ LIVE stable owners will square off in a week-long virtual 'Road to the Derby' qualification period culminating with the horses at the top of the Derby leaderboard clinching a spot in the Virtual Kentucky Derby set to run at 7 p.m. on July 1st. 
For those players interested in planning ahead as to what horse to enter into the chase for the exclusive title of first-ever Virtual Kentucky Derby champion, the race will take place on the hallowed virtual grounds of Churchill Downs – which is a left-turning dirt track. 
A whopping 80,000 DERBY is on the line for this race, as well as a CUSTOM 1 of 1 digital collectible – an authentic trophy with your name forever etched on the blockchain!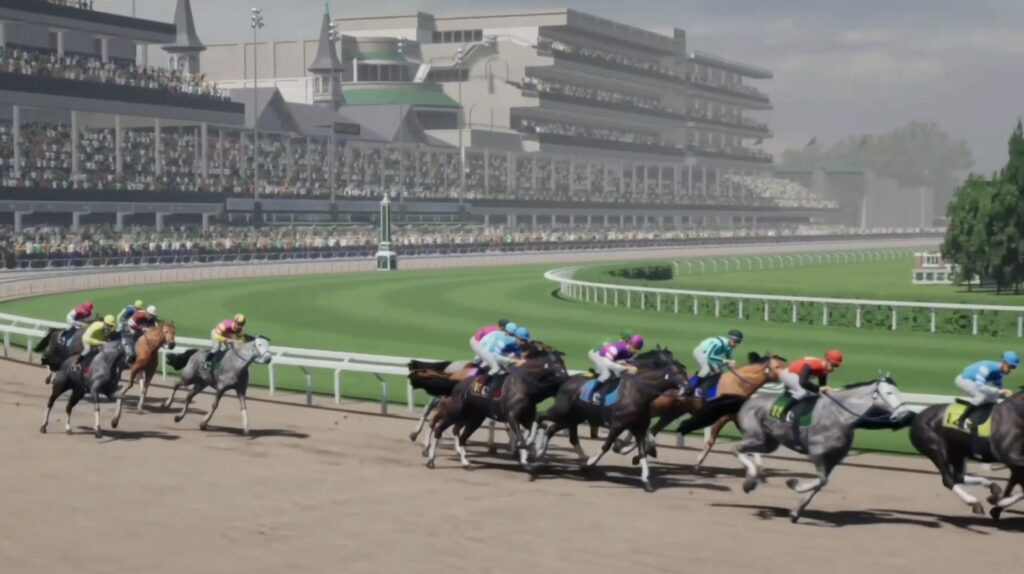 Churchill Downs Enters 3D
Third Time Games artists and developers have been working around the clock to ensure the prestigious Churchill Downs and its iconic twin spires are brilliantly brought to life in the virtual 3D world of Photo Finish™. 
Every detail of this historic Louisville venue has been meticulously crafted and recreated, from the beautifully maintained dirt and turf surfaces to the intricate architectural features that make Churchill Downs so recognizable, no stone has been left unturned as the Third Time team strives to create a virtual Kentucky Derby that is nearly indistinguishable from its legendary real-life counterpart. 
Watch Live on YouTube
Third Time Games will be hosting a live on its YouTube channel Virtual Kentucky Derby watch event featuring team members, race participants, and some very, very, special guests.
The stream will begin at 7 p.m. on July 1.
Virtual Kentucky Derby Special Guest
Photo Finish™ is excited to announce soon a special guest will joining us for all the Virtual Kentucky Derby festivities!
We can't yet reveal who the guest will be, but be on the lookout for an announcement in the coming days.
Want a chance at winning the Virtual Kentucky Derby and participating in a seminal moment in Web3 history?
Visit https://signup.photofinish.live  to create a free account and begin your journey to virtual horse racing greatness.