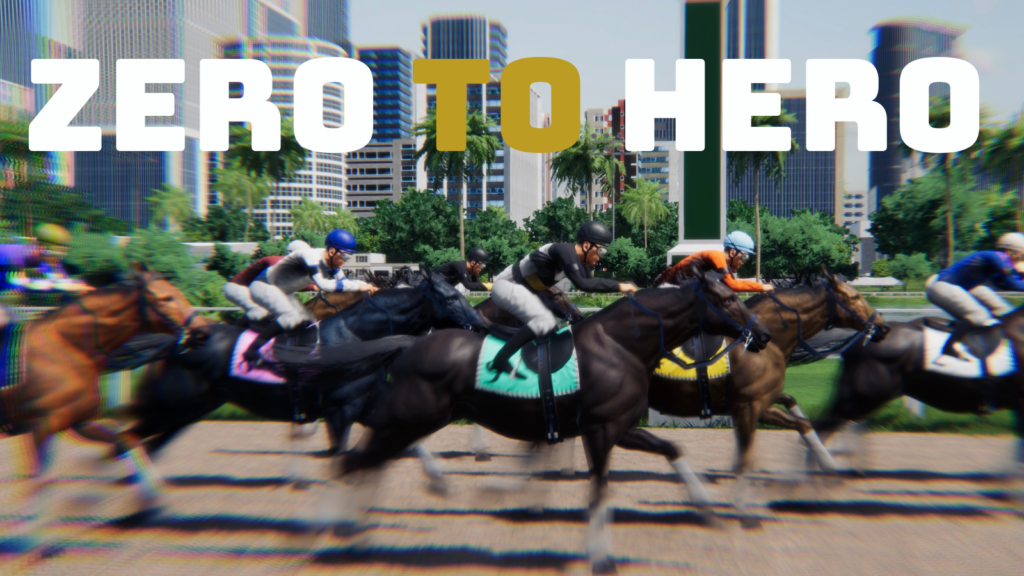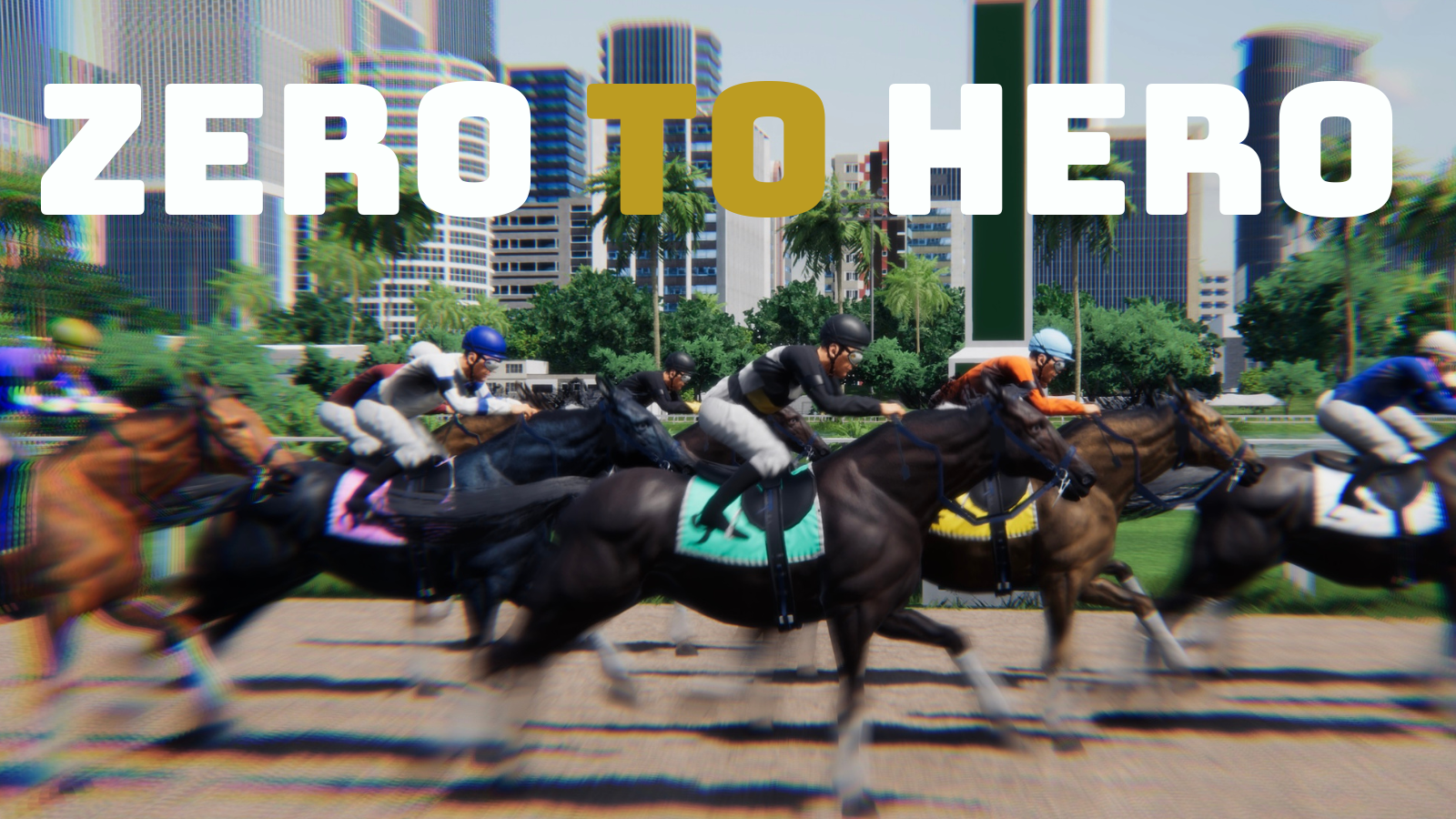 Photo Finish™ LIVE virtual horse racing has many paths to success, not all requiring a huge budget. And one determined player, Lean Stables, has launched a content series to prove it.
Located in the United Kingdom, Lean Stables has gained recognition for their budget-focused approach to the game. His new YouTube content series, 'Zero to Hero,' focuses on a hypothetical path anyone with a budget of $100 could replicate with some dedication and knowledge, which he provided.
We sat with @NFT_Leano to learn more about strategies and plans that go into the series, and what advice he would give to new players seeking to first dip a toe in the extremely diverse virtual horse racing ecosystem Photo Finish™ LIVE offers.
Q: Can you tell us more about your "Zero to Hero" journey in Photo Finish™ LIVE and what inspired you to start this series?
Lean Stables: I learn from videos, and I thought documenting my learning journey would be fun to look back on. I quickly realized that new players gravitated towards content.
I was watching 'MJ Gaming Network – Across the Board,' and it motivated me to dust off the webcam and mic and start recording my own, so shoutout to MJ!
I put in a decent chunk of money, but that's not something everyone can do and can relate to. So, I created Zero to Hero. We started with a 9000 Derby horse ($112.50) off the market that was picked up without negotiation.
I wanted a new player to be able to watch a video, like the idea, and buy a budget horse. That was the inspiration, and the goal is to hit $1000 from $100 invested in the shortest time possible.
Q: Photo Finish™ offers multiple ways to earn in the game. What aspects of the game have you found most intriguing and profitable so far?
A: CROWN gifts are a generous incentive by the team to encourage players to race horses. Less than 50% of horses walk away with a prize pot, so staying profitable with just Derby can be tough.
With the CROWN gift relative to the number of entries, the key for me is to enter races where: 1) I feel I stand a chance at coming at least third, and 2) The CROWN gift outweighs the entry price. The most intriguing angle for an account with a budget is to look for efficient races where you feel the odds are in your favor and the number of entrants is low.
Q: It's impressive that you started with a budget of $125. What strategies or tips can you share with players on a similarly realistic budget?
A: You need to spend time doing anything to get good at it. So just because you're not racing, doesn't mean you can't learn. Focus on looking at where your horse's strengths are. Are they good over long distances or short?
My podiums (netting big % gain) have come from running off preference. Vamprio is an LDF horse that prefers 5-9f, but I have done well on RTS. You need to be smart with how you enter races. If there are only four runners, coming in the top 3 is much easier than 8!
Q: After less than two weeks into your goal of reaching $1000, what milestones have you achieved, and what challenges have you encountered?
A: The first milestone we have at the time of writing is 13,900 DERBY, which is incredible. We started with $125, our balance is nearly $175, and we still own the horse. We can enter races tactically and still make money on an asset that has paid its dues. Challenges-wise, you need to be active, more active than you think.
These 4-horse races aren't easy; many people will enter three horses into one race (three max per account) to secure a last-minute race from one entrant. Everyone else thought it would be canceled, but they made a nice play.
Saying this, I entered the race last second, to find out three other people did the same, and now I am losing money for entering the race (Assuming I don't podium).

Q: For those new to Photo Finish™, could you explain how the in-game economy works in basic form and why it's essential to understand it to succeed in your "Zero to Hero" challenge?
A: The game economy is as advanced as they come, but also very simple to learn. DERBY = Racing, breeding money. This will always be $1 = 80 DERBY, $100 = 8000 DERBY. CROWN = is almost like a governance token. You earn it from PFP's and Racing. What can you do with it? Stake it in race tracks and earn a share of race entry fees.
Likewise, I am selling to ensure my entry fees don't outweigh the final USD gain. DERBY = stable and active. CROWN = Passive and fluctuates.
Q: Your series highlights that not everyone can start with a massive budget. What message would you like to send to players discouraged by their limited resources in the game?
A: Limited resources are a good thing. You will be very smart with how you spend your money.
Rome wasn't built in a day, and stables were not built overnight. Only invest what you can afford to lose. You need a growth mindset and be grateful you found the game now and not in the future!
Q: What are your goals and expectations for the rest of the series, and do you have any upcoming strategies or exciting developments to share with your audience?
A: So $125 -> $1000 isn't where we end. That's actually where things begin to start and will ramp up. One tactic I have is that come the new season; I will be scouting the market for poorly raced foals, putting up poor FFs in around a week.
I will look for people who are impatient or upset that their past two months' hopes and dreams were average. Average works for me! Age 2 Colts will need to retire by age 9. That's seven seasons to make back their cost. If we were to buy an age colt for 14,000 DERBY, we need to make 2,000 a year. This is NOT financial advice; I feel the crown price will rise and make racing even more profitable.
I believe I could hit an ROI of over 1000% on our next buy. So, our next buy is going to be pivotal in the series.
Lean Stables' journey in Photo Finish™ LIVE inspires players looking to navigate the game with a limited budget. With strategic planning and a growth mindset, they demonstrate that success in virtual horse racing is attainable for everyone, regardless of their budget.