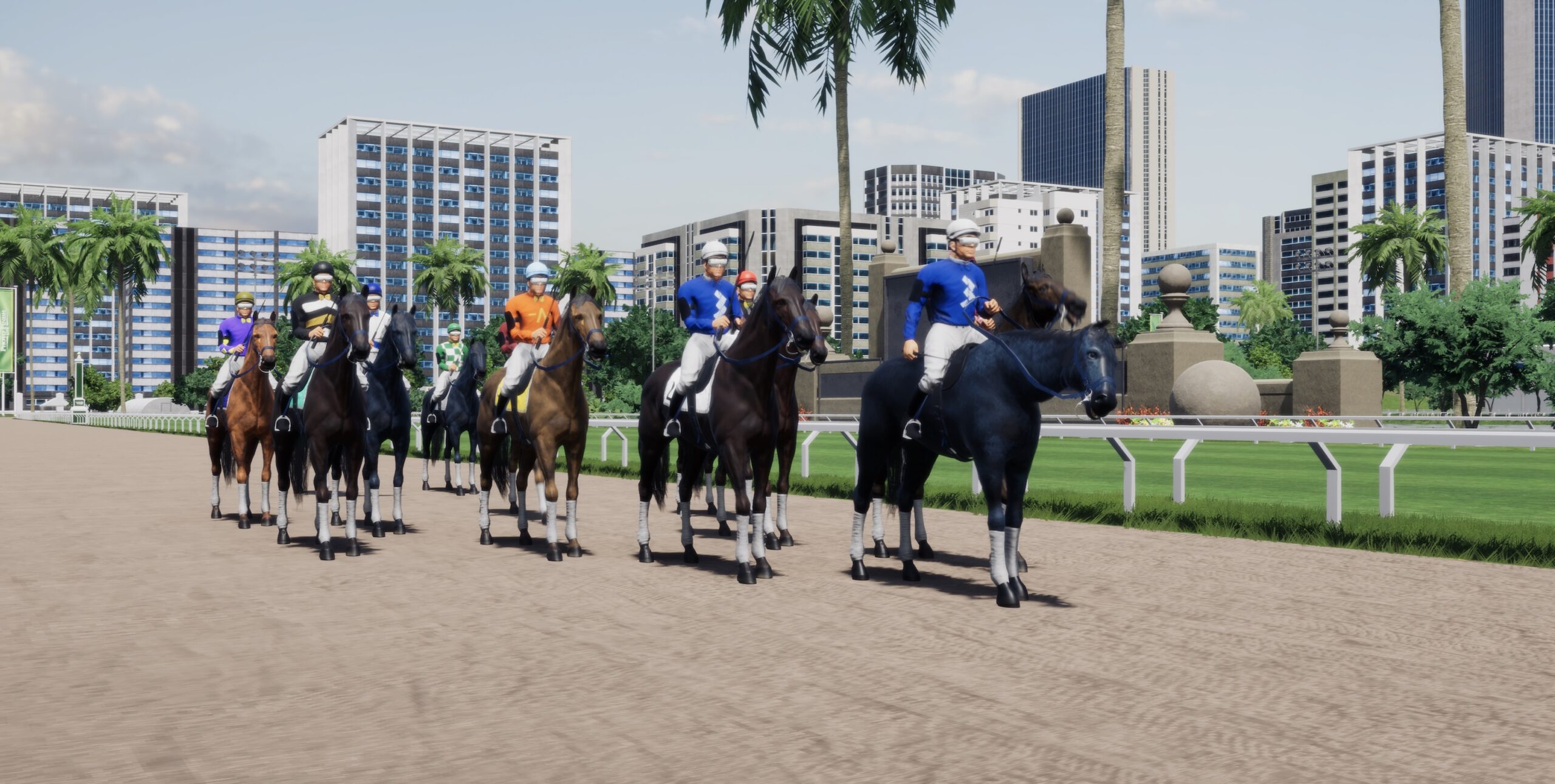 Looking to win real money while racing virtual horses against fellow worldwide competitors? Click here to sign up for a free Photo Finish™ LIVE account and receive a free Trainer Horse eligible to enter any free race immediately.
Virtual horse racing has gained immense popularity in recent years, providing an exciting and immersive experience for fans of the sport and NFT enthusiasts alike through digital simulations that recreate the thrill of the racetrack while allowing players to engage in horse racing action from the comfort of their homes.
Among the notable advancements in virtual horse racing, Photo Finish™ LIVE, developed by Third Time Games, has emerged as a frontrunner in delivering the most realistic simulation.
In this article, we will explore what virtual horse racing is and how Photo Finish™ LIVE has elevated the experience to unprecedented levels of realism.
What Is Virtual Horse Racing?
First things first — What is virtual horse racing? The answer can be obvious or overly complex, depending on who you ask.
Virtual horse racing is a digital representation of the sport that combines cutting-edge technology with the excitement of horse racing.
Participants can engage in races through computer-generated simulations instead of watching live races at physical racetracks. These simulations feature life-like 3D graphics, realistic horse animations, and immersive sound effects, all of which aim to replicate the atmosphere of a real racetrack.
Players can enter races, analyze statistics, and make strategic decisions like at an actual horse racing event. Virtual horse racing events are available around the clock, making it convenient for enthusiasts to enjoy the action whenever they wish.
The simplest definition of virtual horse racing can be summed up like this: the excitement of real-life horse racing, transformed into a digital gaming world where real money is up for grabs.
🌹 The 4th Virtual @KentuckyDerby 🌹

🏆🏆🏆 Congratulations to Elvis from @SOLmateStables on becoming a three-time Road to the Roses champion 🏆🏆🏆

🪙 Elvis takes home $480 of the $1000 FREE entry pot
🥈🥉 @BigBrainStables Place, Show: Wins $380

🎙️ @MoKnowz on the call
⏪… pic.twitter.com/ocNbDGhG84

— Photo Finish™ LIVE 🌹 🐎 Virtual Horse Racing (@photofinishgame) September 24, 2023
The Emergence of Photo Finish™ LIVE
Photo Finish™ LIVE, developed by Third Time Games, represents a significant milestone in virtual horse racing. Following a groundbreaking partnership with the storied racetrack, Churchill Downs, Photo Finish™ is now the Official Game of the Kentucky Derby., making it the only virtual horse racing game in the world that can offer players an opportunity each month to win the digital equivalent of the big race.
This cutting-edge game has raised the bar for realism in the virtual horse racing industry in several key ways:
Realistic Graphics: Photo Finish™ LIVE boasts high-quality 3D graphics that accurately depict the horses, jockeys, and racetracks. The attention to detail is astonishing, capturing the essence of a live horse race.
Authentic Sound: The developers at Third Time Games have paid meticulous attention to audio, ensuring that every hoofbeat, crowd cheer, and commentator's voice adds to the immersion of the experience.
Dynamic Gameplay: Photo Finish™ LIVE incorporates advanced AI algorithms that make the races dynamic and unpredictable, just like real-life horse racing. This keeps players engaged and excited with each race.
Horse Picks and Strategy: The platform offers a wide range of horse pick options, allowing players to use their knowledge and strategy to make informed decisions. This adds an extra layer of excitement to the virtual horse racing experience.
Real-Time Results: Photo Finish™ LIVE provides real-time results, enabling players to watch the thrilling conclusion of each race as if they were at the racetrack itself.
Accessible Anywhere: One of the standout features of Photo Finish™ LIVE is its accessibility. Players can enjoy the virtual horse racing action from their desktop computers, smartphones, or tablets, making it easy to engage with the sport from virtually anywhere.
Virtual horse racing has evolved into a captivating and authentic experience for fans and bettors, thanks to innovations like Photo Finish™ LIVE developed by Third Time Games.
By combining stunning graphics, immersive sound, dynamic gameplay, and real-time results, Photo Finish™ LIVE sets a new standard for realism in virtual horse racing simulations. As technology continues to advance, we can only anticipate even more immersive and engaging experiences in the world of virtual horse racing.