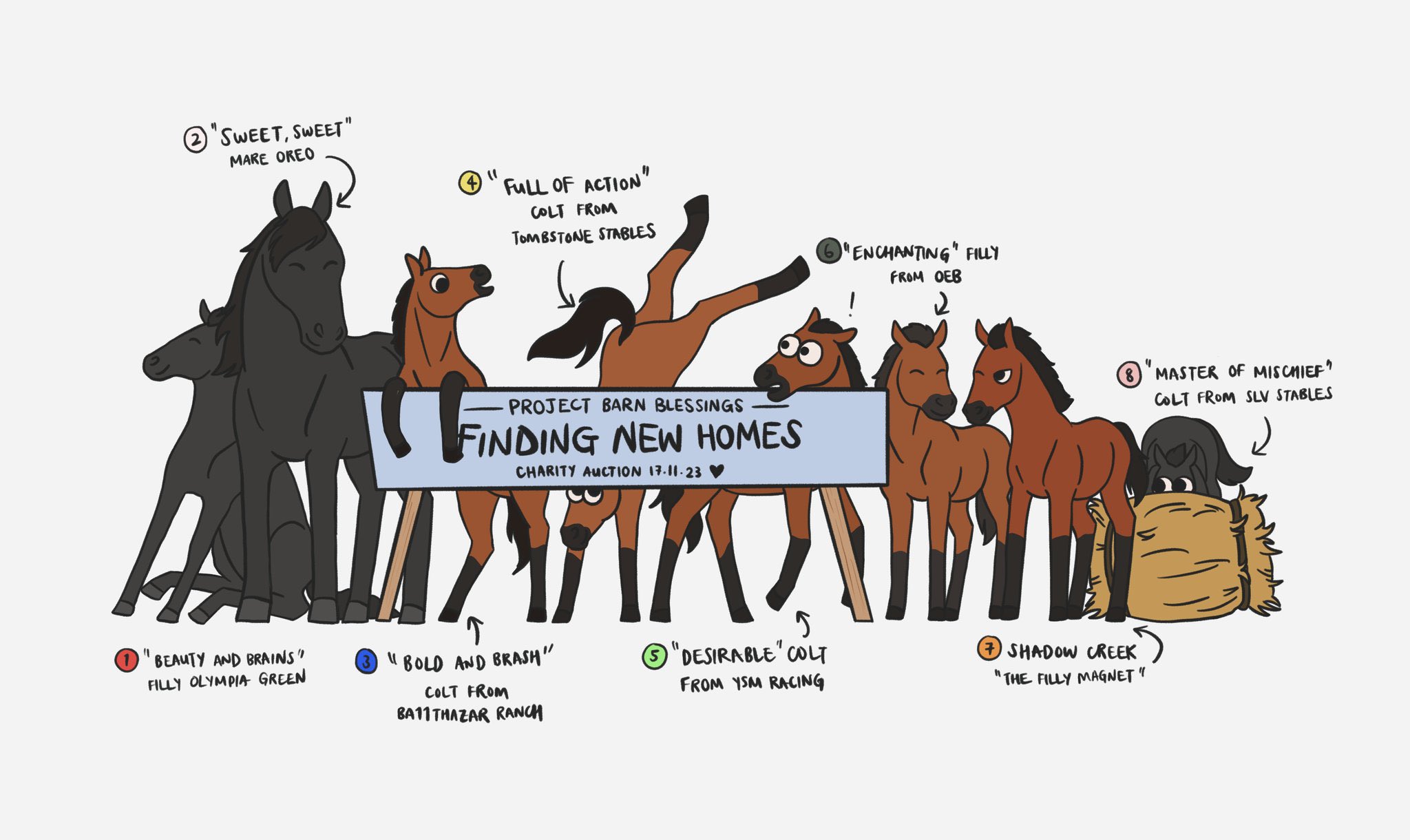 Today, Friday, November 17, at 6 pm EST, join the Photo Finish™ LIVE community for an evening of compassion and generosity personified as they host the Barn Blessings Charity Auction, an initiative aimed at providing life-changing support for needy children at the National Children's Hospital, a public hospital in the Philippines.
Organized by longtime Photo Finish™ community leader Lady Wasabi and hosted by YSM Racing and MoKnowz, the Barn Blessing charity event will be the cherry on top of an already extraordinary fundraising effort by the best community in Web3 and only Part 1 of a two-part auction series expected to add to an already impressive fundraising effort. 
According to Lady Wasabi, as of this writing, the charity wallet is already up to just under $5,000 and climbing, far and away exceeding expectations, and a testament to everyone involved. 
Foals for Goals
The Barn Blessing event is not just about bidding on foals; it's about bidding for a cause. 
Lady Wasabi says that her initial goal was to raise enough funds to purchase BiPAP and CPAP Machines for five BiPAP and CPAP children who desperately need these life-saving devices. Buying the $950 machines, crucial for aiding breathing, can help ensure that children from less fortunate families have access to the respiratory support they need to survive.
Blow away by the response, Wasabi shares she has already earmarked the five machines for the below pediatric patients.
RECIPIENT OF THE BIPAP/CPAP MACHINE

Nathan

Four years old

Pediatric community-acquired pneumonia, epilepsy, microcephaly, cerebral palsy

Queenie

Five years old

Kawasaki disease

Ella

Five months old

Healthcare-associated infection, mild dehydration, and malnutrition

Christian

Eight months old

Recurrent pneumonia secondary to pulmonary microaspiration syndrome

Lester

Five months old

Pediatric community-acquired pneumonia, down syndrome, severe malnutrition
In addition to those high-priority life-changing machines, Wasabi says she set out to buy 200 blessing bags for pediatric patients at the National Children's Hospital in the Philippines – an already-reachable goal.  
Priced at $25 each, these bags will contain gift toys for the kids, groceries for their families Christmas Eve meal, hygiene items, blankets, and more.
The support bags will bring joy and comfort to these young hearts during the holiday season.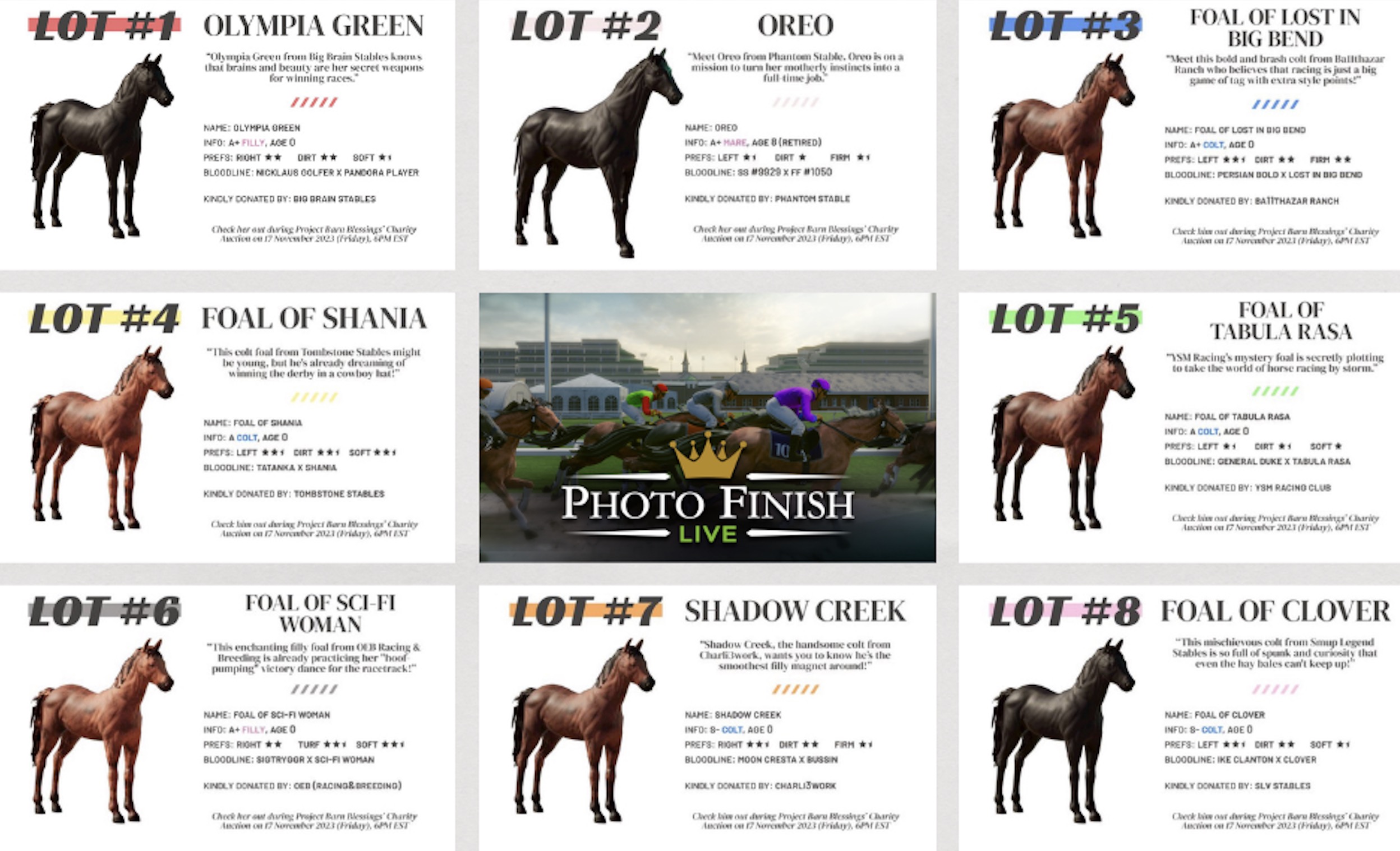 Auction Details
The Barn Blessings horse auction stream will occur on Friday, November 17, on Peeb's Twitch channel at 6 pm EST / 11 pm GMT and include eight (8) horses (seen above). 
This is the first of two live auctions, the second of which will occur on November 27, allowing for a week of breeding and new foals to arrive, ready to be auctioned for a good cause.
PFL Community Rises to the Occasion
On the cusp of the auction, Lady Wasabi tells Photo Finish™ she is in awe at the community's exceptional generosity. She explains that her connection with the National Children's Hospital (NCH) began during her past job, where she interacted with doctors associated with the institution. "I had to go to NCH to talk to doctors, and that's how I found out about them. I do it on a tiny scale because I use my funds," she shared.
"When I shared it in Discord, I never asked for help from anyone. I just shared what I will do this Christmas,"
"A lot jumped in and wanted to help until it has become this huge." 
While she kickstarted the ideas, she stresses that the funds raised reaching such incredible heights are all due to the community that helped drive it.
"I just wanna say that the PFL community is something else. And I hope that this activity will help strengthen our relationship as a community," Wasabi shared, underscoring the unique bond that defines the PFL community.
To those building their stables or those who want to enter @photofinishgame, check out our Charity Foal Auction. If you win the auction, you get to help a kid and you get a horse as a bonus from well known stables!

Don't forget November 17, 2023 6pm EST.

Auction hosted by the… https://t.co/lVyfahL9s9

— LadyWasabi (@LadySolanaNFT) November 17, 2023
Lady Wasabi says she decided to share her annual initiative in Discord, expecting perhaps a modest response. "It was funny because I showed them how last year I gave away unicorns and dino stuff toys, and suddenly the community just responded and wanted to help,"
"The kindness has just blown me away," adding, "I spoke to some community members, and they are pleased about the charity because they said it reminded them how petty their problems are, and they remembered how to be grateful for what they have."
Wasabi emphasized the profound significance of seemingly modest contributions, noting, "To some, 50 USD is nothing, but to these kids, it can save their lives." Lady Wasabi's words encapsulate the transformative power of collective generosity within the PFL community, transcending individual challenges to make a meaningful impact on the lives of those in need.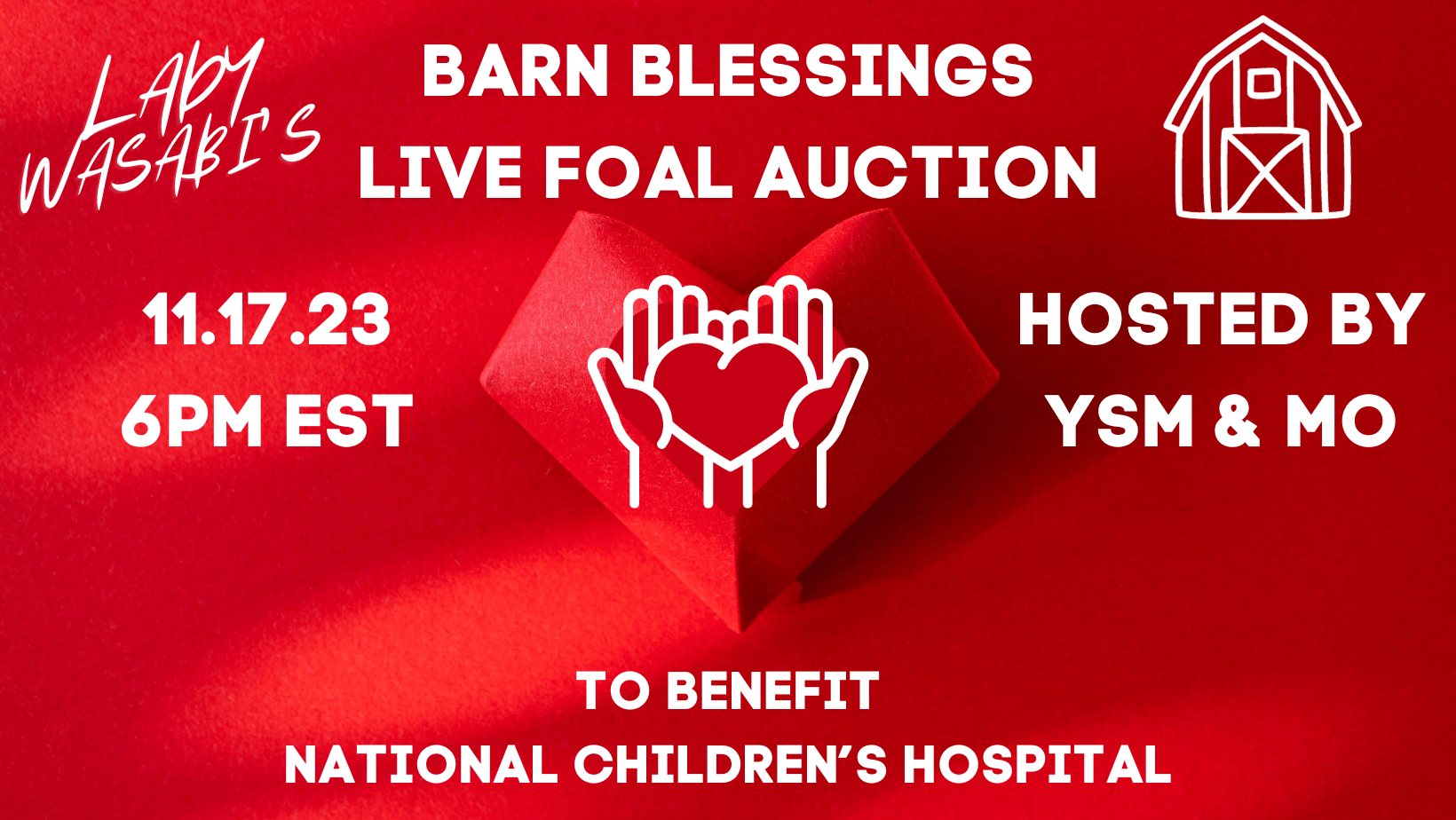 Other Ways to Help
Those wishing to help the cause may do so in various ways, including donating $25 toward one blessing bag for a child and their family. As a fun side gesture, the crew offers to print your stable and PFL logos on the bag. 
To donate in USDC, this is the wallet address: BghAhCFXvPcguAjR54BX26Hyc7TWT4kVuXwUJtt3Y5my
To donate a horse for Part 2 of the auction, go to Discord's Charity Auction or Charity Info channel and tag Wasabi, Lacy, or Leano.