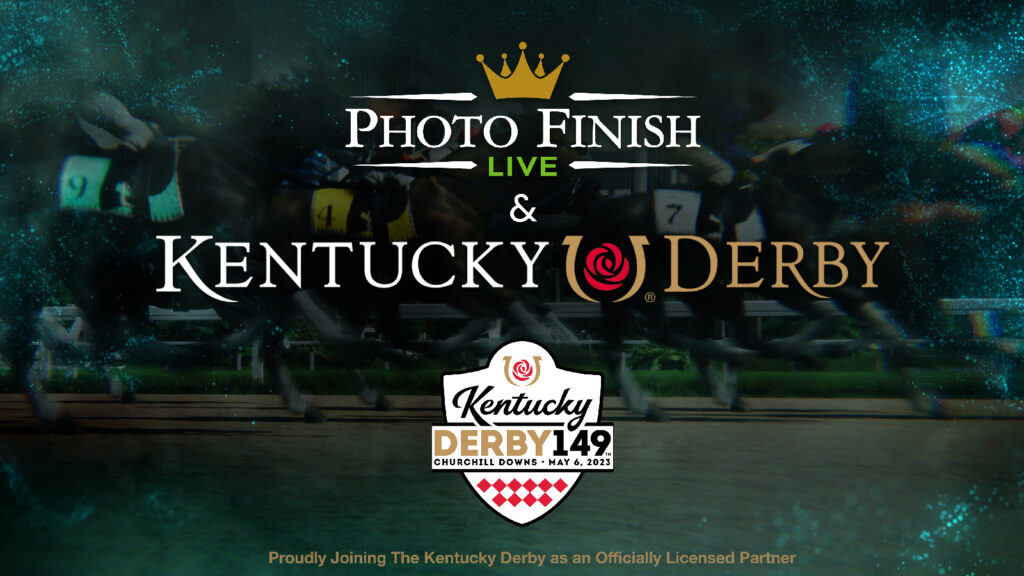 The countdown to the Kentucky Derby at Churchill Downs is in full swing, and Photo Finish™ LIVE, the Official Game of the Kentucky Derby, will be embedded steps from where all the action takes place.
Third Time Games will be boots on the ground at Churchill Downs this weekend, rubbing elbows with an expected 150,000 horse racing fans that have flocked to Louisville to take in the sights and sounds of the 149th Kentucky Derby.
With the IRL horse draw set and the Third Time team already on its way to set up our foothold in the Churchill Downs infield, let's take a bird's eye view of what to expect heading into a historic weekend.
Kentucky Derby: The Stage is Set
The 149th Kentucky Derby will take place on May 6 at the iconic Churchill Downs grounds located at 700 Central Avenue in Louisville, Kentucky, where over 150,000 horse racing fans are expected to be in attendance when the race leaves the gates just before 7:00 p.m. 
For those not there in person, coverage will on NBC, Peacock, NBCSports.com, and the NBC Sports app at 12:00 p.m. ET and will run through postrace coverage of the Derby.
The Draw: Meet the Kentucky Derby Racehorses
As those that tuned in to see the 80-1 Rich Strike win the 2022 Kentucky Derby in thrilling fashion can attest – there is no horse in the field that's incapable of winning, just those more likely to. 
That being said, Forte, a three-year-old colt entering the Derby on a five-race winning streak and that has won six of seven starts, including last month's Florida Derby, is the clear favorite to take this year's crown.  
Check out the 2023 Kentucky Derby field of racehorses and their latest odds of taking home the prized trophy below
| | | |
| --- | --- | --- |
| Program Number | Horse Name | Odds |
| 1 | Hit Show | 30-1 |
| 2 | Verifying | 15-1 |
| 3 | Two Phil's | 12-1 |
| 4 | Confidence Game | 20-1 |
| 5 | Tapit Trice | 5-1 |
| 6 | Kingsbarns | 12-1 |
| 7 | Reincarnate | 50-1 |
| 8 | Mage | 15-1 |
| 9 | Skinner | 20-1 |
| 10 | Practical Move | 10-1 |
| 11 | Disarm | 30-1 |
| 12 | Jace's Road | 50-1 |
| 13 | Sun Thunder | 50-1 |
| 14 | Angel of Empire | 8-1 |
| 15 | Forte | 3-1 |
| 16 | Raise Cain | 50-1 |
| 17 | Derma Sotogake | 10-1 |
| 18 | Rocket Can | 30-1 |
| 19 | Lord Miles | 30-1 |
| 20 | Continuar | 50-1 |
Friday, May 5, 6:00 a.m.: Photo Finish™ Team Interviewed on NBC Live From Churchill Downs
Third Time Games will be up bright-and-early on Friday, May 5, to meet Wave 3 NBC Louisville at the Photo Finish™ tent for an interview that will air live on their news broadcast.  
Wave 3 is the Official Television Home of the Kentucky Derby, so you can bet the most locked-in horse racing local audience in America will be tuned in coffee cup in hand to get a jumpstart on all the festivities. 
You can watch a live stream of Wave 3 NBC Louisville's Friday broadcast here.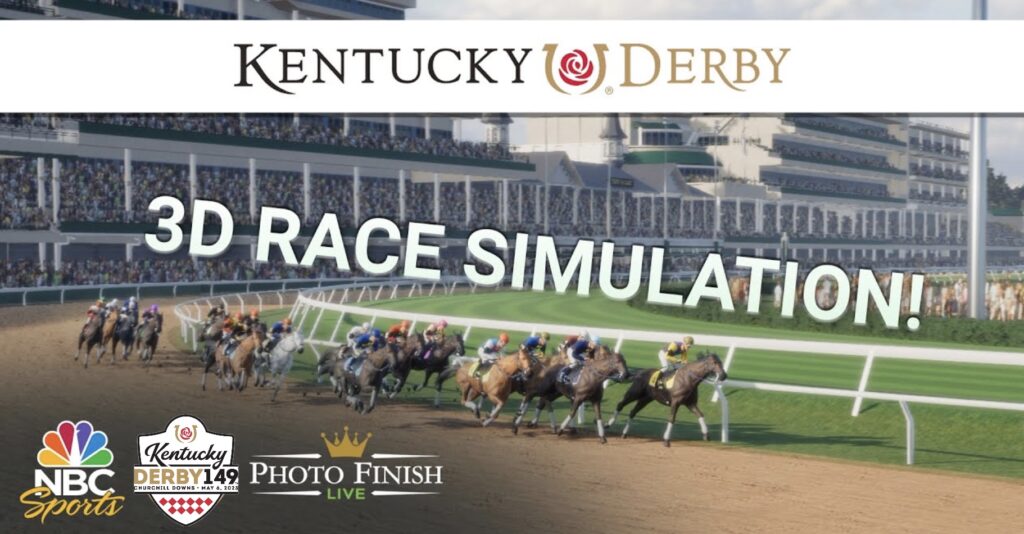 Saturday, May 6: Photo Finish™ 3D Simulation of the Kentucky Derby Airs Nationally on NBC 
Before we get to what our boots on the ground will be up to all weekend, let's talk about what millions will see on their televisions prior to the race – Photo Finish™ LIVE. 
For the fifth consecutive year, NBC will air a 3D simulation of the Kentucky Derby created by Third Time Games during its pre-race coverage. The simulation will feature a virtual equivalent to the Churchill Downs grounds as well as the 20 horses competing in the race, down to their custom silks. 
As part of NBC Sports' extension of its deal with Third Time Games, analysts on set will watch and discuss a Photo Finish™ LIVE fueled simulation of the Kentucky Derby.
Tune-in — you never know what might be planned!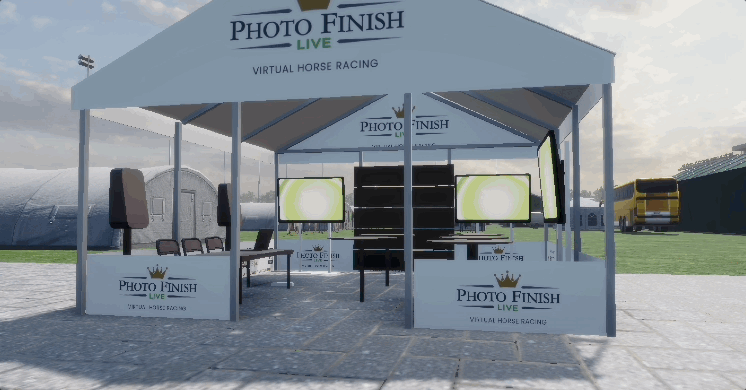 Derby Weekend May 5-6: Third Time Games Boots on the Ground
Third Time Games CEO and Founder Ian Cummings will lead team members in greeting an estimated 50,000 horse racing fans as they stroll past a Photo Finish™ LIVE branded tent located within the Churchill Downs infield area.
If you're watching the action live on television, look for the Photo Finish™ banner plastered in as many places as we could fit it. If you can't find our banners, look for our lime green t-shirts. That's right — lime green on Cinco De Mayo. It's almost as if it was meant to be. 
The exclusive infield area is reserved for the race's biggest horse racing fans who will be able to view Photo Finish™ races, win free swag, claim free digital collectibles, and, ideally sign-up to create an account and race their own Trainer Horse right away. 
If you've seen a picture of what this tent area will look like, you know what kind of Derbypalooza experience it will be.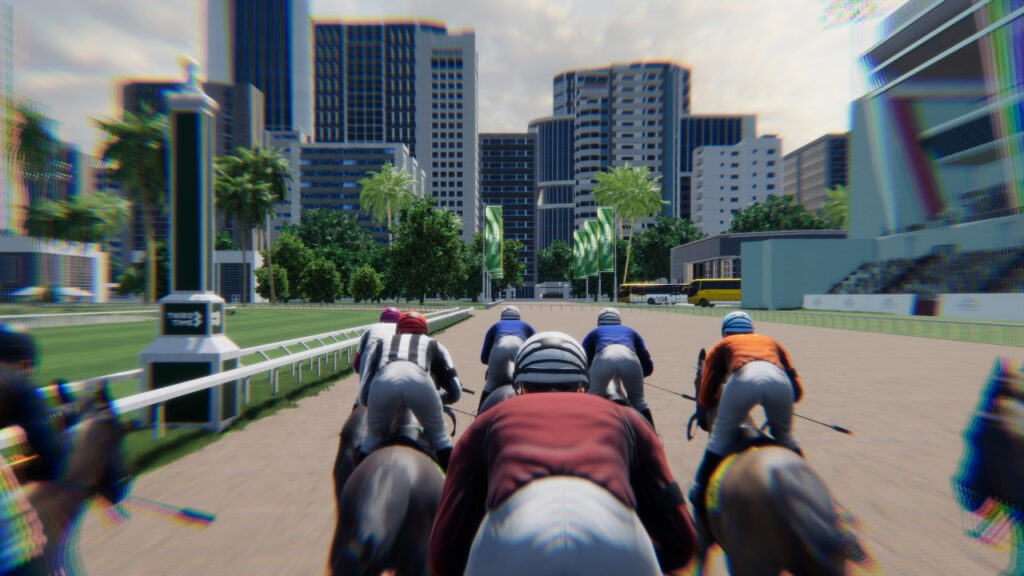 The Future is Now
Everything the Third Time Games team and the Photo Finish™ LIVE community have built over the last year-plus will come to a head this weekend, then push off into a new stratosphere. Things were already moving at the speed of light prior to this historic weekend for a Web3 brand, but we have a feeling the weeks in the aftermath will bring things to an entirely new level.
This weekend's Kentucky Derby is just the beginning of a calculated and concerted effort to bring the best Web3 game in the world to the masses.
Literally, bring it to them. In-person.
On the biggest horse racing day of the year.