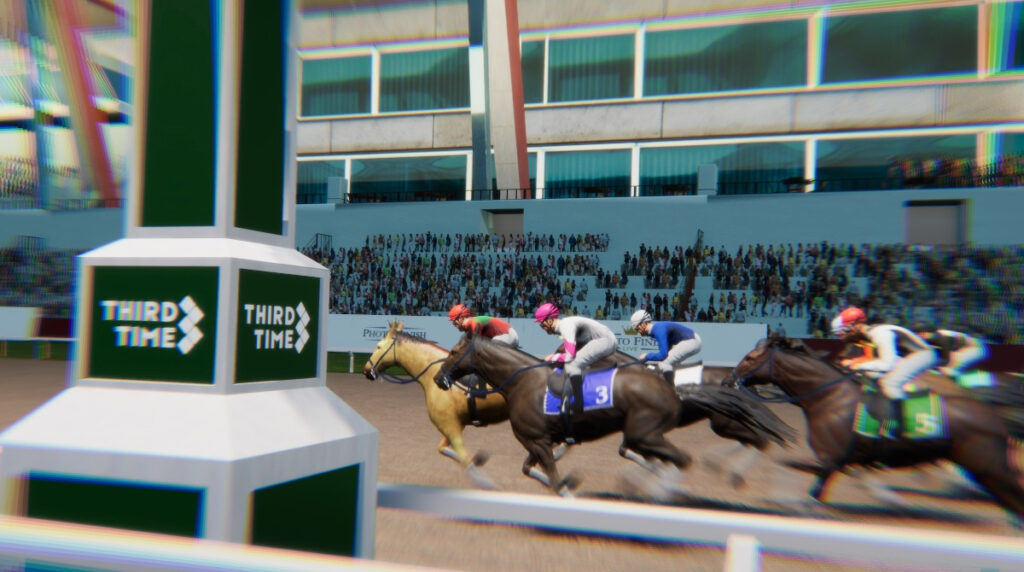 The second-to-last Crown Prep Sprint Series and Third Time Derby to take place before Photo Finish™ LIVE's full launch on April 24 featured yet another Saturday of high-stakes races, all starring the best racehorses PFL Beta has to offer.
In total, over $3,000 in purse prizes were awarded in the seven biggest races to burst out of the gates on Saturday night, and that total doesn't even include the thousands of $DERBY we saw changing hands throughout the weekend through in-game wagering.
Let's dive into everything you may have missed this weekend.
Third Time Derby Champion: Ajax | Wolaf Farms
By default, the Third Time Derby is comprised of some of the greatest horses Photo Finish™ has to offer. That being said, when the best race against the best, there, by nature, must always be an underdog. 
This week, Ajax from Wolaf Farm thwarted 22-1 odds to hoist the biggest prize of them all – the title of Third Time Derby champion.
What's cooler? A record amount of $DERBY was wagered on the race, with some even cashing those 22-1 to win tickets. 
Well, we should say it was a record wagered. That record has in the hours since been broken, more than once. 
Congrats, Wolaf! Ajax defied all odds to become this week's king of kings! 
Crown Prep Sprint Series Winners
Over 189,000 $DERBY and $2,300 were on the line in this week's Crown Prep Sprint Series races – and that was in just six of the 12 possible races!
As the field continues to grow and race preferences become more catered to a wider variety of competitors, Saturdays are expected to get that much more interesting in the near future. 
Let's take a look at this week's winning horses! 
| | | | | | |
| --- | --- | --- | --- | --- | --- |
| Race | Distance | Surface | Purse | Entry Fee | Winner |
| R1 | 5 Furlongs | Dirt | 38.50K | 3.50K | S26 RDF |
| R7 | 6 Furlongs | Dirt | 28.00K | 3.50K | Lagavulin Neat |
| R8 | 9 Furlongs | Turf | 21.00K | 3.50K | Splus RTS |
| R9 | 12 Furlongs | Dirt | 24.50K | 3.50K | Dancing Nancy |
| R10 | 6 Furlongs | Turf | 21.00K | 3.50K | Hundred Acre |
| R11 | 10 Furlongs | Dirt | 35.00K | 3.50K | Mona Lott |
| R12 | 8 Furlongs | Turf | 21.00K | 3.50K | Serena's Star |
Big Sales
Racehorse ticket and PFP sales have been boomin' since Third Time Games announced its multi-year partnership with Churchill Downs. So much, in fact, that our Discord Sales Bot has had a hard time keeping up!
Just in the past few days, we've seen sales of combined thousands of SOL trade hands, with the highlight being three ticket sales individually topping over 200 SOL, including a late Sunday night ticket sale of 289 SOL. 
Big things coming. Big sales happening. That's just the circle of life, we guess.