Following a successful first round of Beta testing, Photo Finish™ LIVE is excited to announce we've reached the next mile marker in our journey to virtual NFT horse racing utopia – Beta V2. 
This next, and likely final, phase of our beta testing will go live on November 7, and with it arrives a slew of new features, improvements, and many of the UX/UI bells and whistles requested by our incredible community. 
To go over all the spicy updates and features included in Beta V2, we've pulled CEO and Founder of Photo Finish™ LIVE, Ian Cummings, away from his laptop for just enough time to dish on everything from the game's updated look and sexy new UX features, to a new aspect of the game he believes is the odds on favorite to make the most noise.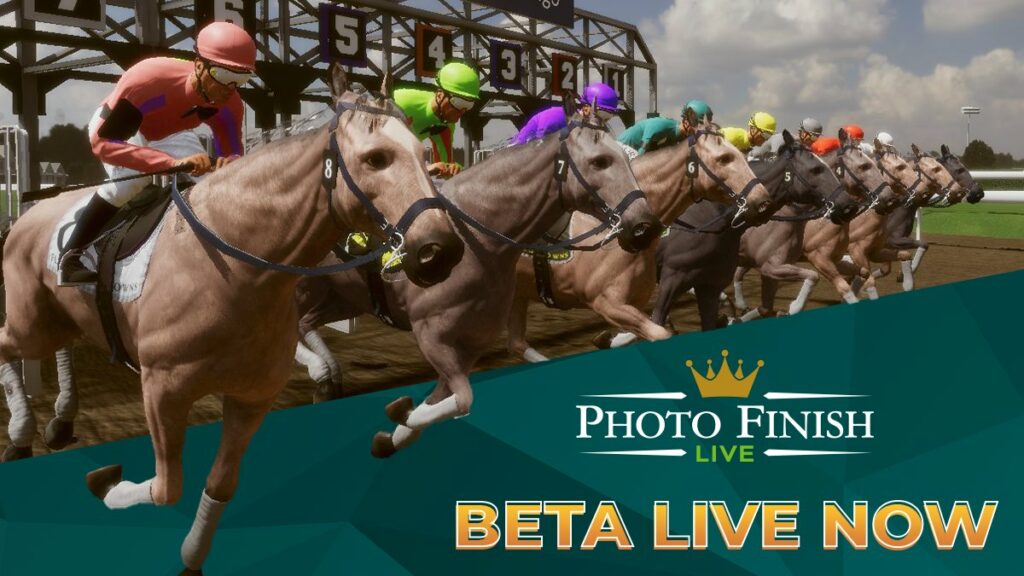 But First, Thank You 
Before we get to the Beta V2 alpha, we'd be remiss if we didn't take a moment to thank those that helped fast-track the first version of Photo Finish™ LIVE Beta testing. When the story of Photo Finish™ LIVE is fully written, our pre-launch friends will require many chapters and even more rounds of beers.
Special thanks to the below-listed community members for their contributions during Beta V1.
Mr. B, Peeb, The Commish, MonkeTennis, SoCal Stables, vjj, Steelheart, Eddie#4624, Fillyshell, Stenz, Ghost, Sagepanther, Solmate Stables, Tee Green, Pkrplayer, Riptyde, Rollo, Frsleader, Dewaun, The BigBrain Crew, Wolaf, Jrake, Solsorcerer,  Tex, DavidHRC, and Thalantyr.
Countless more community members have played a vital role during Beta V1, and we thank each and every one of you for being 'early' with the Photo Finish™ LIVE team on this journey.
Beta V2 Q&A: CEO and Founder Ian Cummings
With Photo Finish™ LIVE on the cusp of launching Beta V2, looking back, what have been your main takeaways from the initial stage of Beta?
Ian: We've honestly been blown away at the generally positive reaction to Beta AND the 'stickiness' metrics (how many people have continued to play despite there not being real money on the line).

It's been a long time since we've been able to make a game for what is basically an extremely eager and excited community. Our team comes from past experiences where often we've dealt with the very grizzled (and often quite jaded) game communities, so this has been such a breath of fresh air to develop this game for a new audience in a brand new way. 
I think from a design standpoint, there are so many things that we knew we needed to improve and continue working on. I mean, we're in the game dev business – we're never truly done.
What were some of the most valuable outcomes and/or challenges PFL encountered in Beta V1, and how have those obstacles been beneficial in shaping V2? 
I think one of the most important things we have done to improve the experience in this release is to ensure that in V2 we have the tools to encourage and foster quality competition across all tiers of racing, not just at the highest level. 
That's why one of the things I'm most excited about in V2 is our extremely robust handicapping and allowance systems.  They've allowed us to create races tailored to any grade of the horse, whereas in Beta V1 we knew that it would pretty much be dominated by the top-tier horses. 
Let's get into what everyone is excited to hear more about – Beta V2, and what to expect. Can you provide a glimpse into changes coming, and what updates you're most excited about launching?
There are so many things that we've poured our hearts into with this release. It's honestly hard to even name or remember them all. 
I think one of the greatest parts is the moment you enter the site it looks and feels like a totally new experience. It doesn't require digging through menus for additional buttons or features. It right away feels NEW and ALIVE. 
Aside from the previously mentioned work on more fair competition and race types, I think the number one thing we're excited about is the addition of parimutuel wagering and real money racing. Much more on both of those features will be released in the coming days, but needless to say, we're excited to release them.
We're going to slowly roll things out over the release of Beta V2 to make ABSOLUTELY sure it works amazingly well and that we have all the tools in place from a customer support standpoint to handle anything that goes wrong. That being said – the first races with real money on the line and spectators wagering is going to be really special, and our team can't wait for it to happen!
I'm also thrilled about the addition of our "Major Race" series – starting with the 'Third Time Derby.' This series of races will allow owners to earn points in qualifying races in order to try to compete in a high-stakes race at the end of the week. It's definitely going to add a whole new layer of competition and fun to Photo Finish™ Live. 
Lastly, I think we're super excited for the community to see the laundry list of UI/UX improvements and additions to make the game feel new and fresh (and easier and more fun to use). Taking player feedback and making their requests a reality is a big part of what beta is all about.
What is your ideal scenario coming out of a successful Beta V2? Are there any outcomes you hope to see as a result of the testing?
The ideal scenario for me is always to be in immediate "feature iteration" mode rather than "firefight" mode. The worst-case scenario of releases is losing all of your time to manually fix up broken user accounts or handling a million customer support requests. 
The best-case scenario is immediately hitting the ground running and adding new features, doing the tuning, and iterating live on the game with the community. 
The ultimate best-case result? An extremely short Beta V2 period so we can roll out the full version of the platform as soon as possible. 
But, this is game development, and it's always unpredictable. If it was easy, everyone would do it. 
We'll make sure the game is solid and well-tuned before we flip the switch to go live.
Photo Finish™ LIVE has seen huge community growth during Beta V1. For those that haven't yet given PFL a try, what would you tell someone that thinks they've already missed the boat, and Beta V2 is no longer 'early' enough to get in on the action?
I actually do sometimes worry about this. The feeling in crypto can often be that unless there's a chance of a 100x gain ahead of me, I'll keep looking.

I'd like to counter that this game has YEARS of runway ahead of it. Our previous mobile game – Horse Racing Manager – was released in May of 2018 and is still alive and well with players competing feverishly in weekly competitions. 
Along with that, a key differentiator between our game and other competitors is that the best horse does not yet exist. We're not holding back the best horses in our wallet to be sold at a mega-expensive auction later. 
The best horses in Photo Finish™ LIVE will be bred by you – the player – in the community. There's literally nothing stopping you from buying the cheapest horse available right now and using strategy and smarts to; a) win money while racing, and b) use that money to breed up to the highest grade horse ever imagined. 
We've created a game specifically designed for the rags-to-riches story in this truly open environment. 
What do things like look post-Beta V2? Is there a timetable for the official launch of Photo Finish™ LIVE? Is there anything about your vision for the future of PFL in 2023 and beyond that you'd like to share?
The timetable for moving from Beta V2 to the official launch is 100% determined by how well Beta 2 is received (and performs). Hopefully, the period is short and we can move right into a full launch. It's impossible to know until we get testing and moving, but we're confident. 
We absolutely feel Photo Finish™ Live will be fully live in the first quarter of 2023, but we also won't rush greatness! 
Also, we're not sitting on our hands during Beta V2. One of the most exciting things outside of the full launch is the partnerships we are working on. 
Stay tuned – we really do plan to take over the crypto-gaming world. 
Crush your enemies. Grind their bones into the dirt. 
---
Join the Photo Finish™ Live Community
Bullish on Beta V2? Visit the Photo Finish™ LIVE Linktree page to find everything you need to get started. Follow us on Twitter and join our Discord.