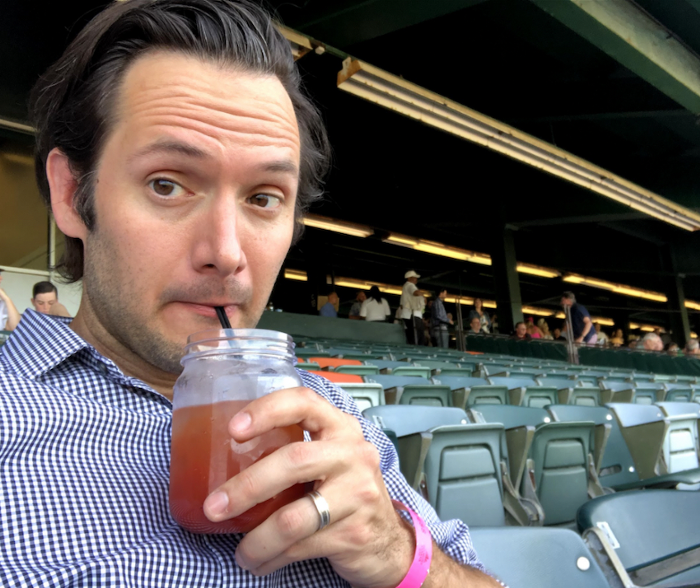 Ian Cummings here, Founder and CEO of Third Time Entertainment, Inc, and I wanted to start providing more regular updates here in blog form so you can see behind the curtain of what we're building.
My team and I have built many games over the last couple decades, but this is our very first game on the blockchain. So In this first update, I wanted to explain exactly WHAT we are building with Photo Finish™ LIVE!
Photo Finish™ LIVE is a living, breathing, strategic, and skill-based ecosystem built on the blockchain; featuring verifiable ownership of NFT Race Horses, 100% authentic and lifelike race simulations, a true-to-life genetics based breeding engine, and a carefully tuned token economy, all living on the blockchain.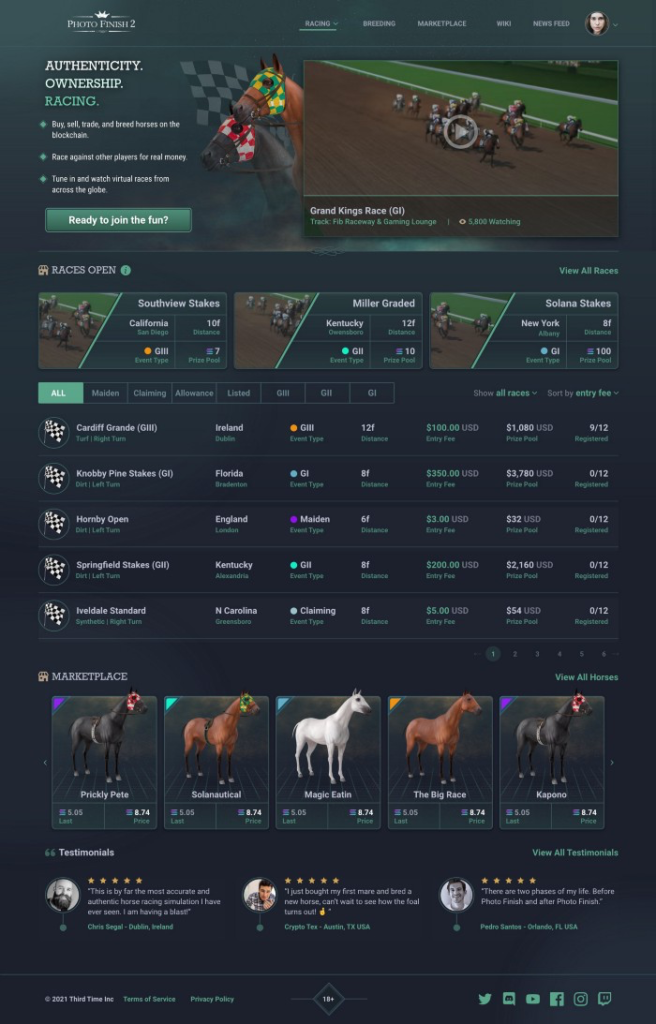 First, I want to tell you why our team has a competitive advantage over any other similar game in the space. Over the course of 10 years, I worked my way up from a QA tester to the Creative Director of the Madden NFL franchise. After leaving EA Sports in 2011, I have held studio design leadership positions at Zynga, FanDuel, and was recently a Studio GM at Glu Mobile. I formed Third Time in 2015, and since then have hired the best developers I could find. Our team has over 70+ years of combined experience with 90+ titles shipped; a team that also held technical and art leadership positions on games like Tiger Woods Golf and NASCAR.
Since forming, our team independently created and released 2 of the most popular horse racing games in the world, Photo Finish Horse Racing and Horse Racing Manager, with over 14 million downloads combined to date.
Starting in 2017, we signed a deal with NBC Sports to create the official simulations for their Triple Crown broadcasts. You can see our engine at work in the most recent 2022 Kentucky Derby broadcast:
What is Photo Finish™ LIVE?
We are building the most authentic, realistic, and fun horse racing simulation game in the world. The decades of experience we have working on AAA sports titles trained us to care about every detail, and this game is no exception. The unique selling proposition of Photo Finish™ LIVE is centered around 4 main pieces.
Real Money Racing. Nearly every minute, a new race will be open for players across the world – just like you – to pay a cryptocurrency entry fee in order race your horses against each other. As a virtual thoroughbred owner, you select the race that best matches your horse's strengths and minimizes their weaknesses, and importantly, matches the cost that you are comfortable with risking as an entry fee. Once the race is full, our tried-and-true engine creates a real-world accurate simulation down to the millisecond furlong by furlong, and renders a result live for all to see. The winning horse gets the lion's share of the entry fee pot, but all entrants get at least 1% of the purse back for trying.
All horses are NFT's. In layman's terms, this means that your race horse is verifiably yours and only yours, and can be freely bought, sold, and traded with other real life players. Your virtual thoroughbred is a 100% unique living, breathing, machine with its genetic profile stored on the blockchain. Which leads us to the next point…
Authentic Genetics-Based Breeding. In 2018 we built one of the most advanced and authentic breeding simulations on the market, and for Photo Finish™ LIVE we plan on expanding this even further. Smart breeders and horse owners are rewarded by tailoring their bloodlines over hundreds of generations to improve their strengths and minimize their weaknesses. The entire breeding ecosystem is controlled by you, the players! Owners of retired stallions can put their horses out to stud and choose the fee to breed with them. Owners of retired mares can breed their own foals, minting brand new horses for themselves to later enter the racing ecosystem. Will you breed a long distance monster on turf or a dirt sprinter with a thirst for the mud? Can you breed the next champion racehorse?
Shared Calendar and Horse Lifespans. Every player in Photo Finish™ LIVE is playing within the same universe, a universe that runs at an accelerated clock of 1 year every month. Why are we doing this? There are two main reasons:

By following an accelerated real life schedule, we can compress the excitement of a full year of horse racing, including 3 consecutive major races held only for 3 year old stallions, into one month.
With this, our horses age, retire, and eventually pass into the great beyond. This version of "real life", a somewhat deflationary economy of aging, ensures that all players (especially new ones) have a fresh entry point every 4 weeks, and that the game turns over a new set of horses to keep things competitive, and new.
Here's a practical example: Your virtual mare breeds with another virtual stallion on January 1. Your virtual foal is born on February 1. Your horse turns 2 on April 1 and can start racing in Juvenile races. On May 1 it's ready to try and gain entry into the 3 major races. From May through October, your horse can race, and in November your horse retires. From November 2022, for another 15 or so months, your horse can breed new offspring. As I say often…Secretariat won a lot of money for his owners while racing. And he made even more while breeding. But those days had to end!
Summary
Hopefully this gives you a helpful glimpse into our upcoming product. We have been absolutely blown away by the support and organic growth of our community, as well as interest from the investment community at large.
I've gone on long enough. If you would like to learn more about our future roadmap including graphical upgrades, investors, marketing partnerships, and how we're integrating wagering, play to earn, and tokenomics…subscribe to this blog, follow us on Twitter, and join us on Discord!
See you next time!