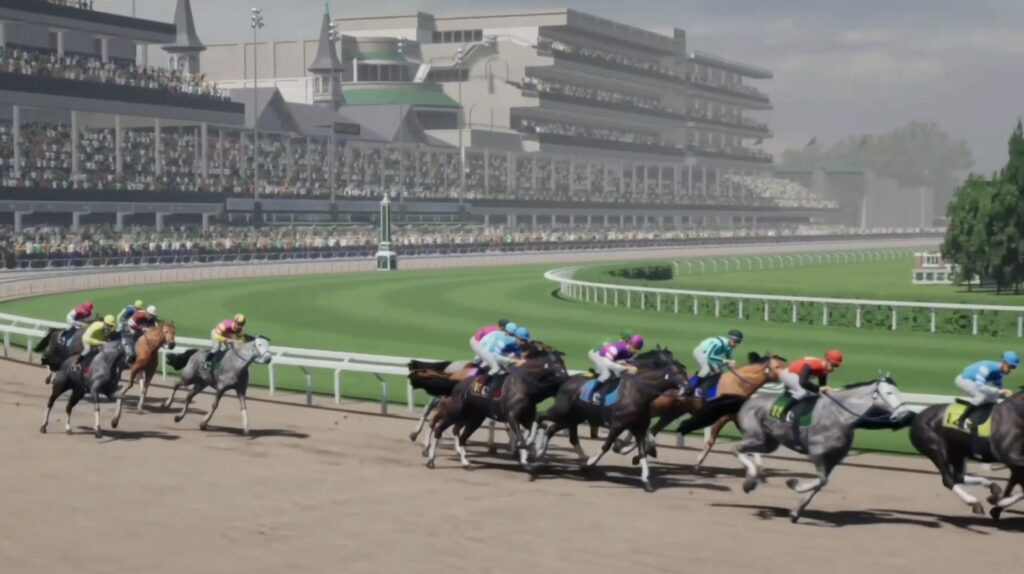 Beneath the shadows of the iconic Churchill Downs twin spires this past weekend sat the Photo Finish™ LIVE team soaking in a surreal experience as we played host to tens of thousands of horse racing fans in attendance to enjoy the 149th Kentucky Derby.
To even be in attendance and lucky enough to post up within the race infield for 48 hours would be a story to tell in itself, but to see the Photo Finish™ logo followed by the words The Official Game of the Kentucky Derby plastered for all to see will be something this team will never forget.
Let's take a look back at all the excitement.
Third Time CEO and Founder Ian Cummings Appears Live on NBC Louisville
Before the sun even peaked its head above the Churchill Downs walls, Third Time Games CEO and Founder Ian Cummings was already up-and-at-em bright-eyed and bushy-tailed, ready for a live interview on Wave 3 News, Louisville's NBC affiliate, and the Official Television Station of the Kentucky Derby.
Planning for months to be at the Kentucky Derby was one thing, but to actually be touching Churchill Downs grass and in front of the camera talking to tens of thousands of people that were preparing to head down to the grounds themselves was a moment that made it all feel just so real.
NBC Airs Photo Finish™ 3D Simulation of the Kentucky Derby
While the Photo Finish™ team was giving thousands of horse racing fans a glimpse of the game in person, NBC Sports was doing the same, but to millions on television tuned in to its live coverage of the Kentucky Derby: Wen marketing?!
The first segment of NBC's fourth hour of programming featured a Photo Finish™ LIVE 3D simulation of the Kentucky Derby. As an added bonus this year, the spot ended with a banner graphic that invited millions of viewers to sign up and play.
Last year, brands paid upwards of a quarter-million dollars for 30-second commercials during NBC's Derby coverage. With that in mind, having a full minute-plus segment dedicated to showing off what Photo Finish™ LIVE is capable of is damn-near priceless.
What a time to be Photo Finish™ (a)LIVE.
Photo Finish™ LIVE Introduces Thousands to Virtual Horse Racing
That sound you'll hear over the course of the next few days is our team's coffee mugs continuously clinking their desks as we recover from the wildest, and most fulfilling, weekend in company history.
As the Official Game of the Kentucky Derby, the Photo Finish™ team was honored to welcome and introduce tens of thousands of partygoers on their way to the actual Derby to what the future of horse racing looks like.
Throughout the two-day event, horse racing fans of all ages were repeatedly stopped in their tracks with what appeared to be a real race running on Photo Finish™ monitors. Within just a few minutes on Friday afternoon, groups of younger horse racing fans had already made their own accounts.
Placed just yards from the iconic and massive Twin Spires tent, the Photo Finish™ logo made multiple appearances on television throughout the day as NBC aired cutaways from the Churchill Downs infield area.
To say seeing the Third Time Games and Photo Finish™ logos sitting alongside that of brands such as Twin Spires, Ford, and Woodford Reserve was surreal would be an understatement.
Back to Business: The Third Time Classic
And we now return to your regular scheduled Photo Finish™ LIVE programming, already, and always, in progress.
The beautiful part about virtual horse racing is that come hell or high water, the races go on. That was just the case this weekend as the Third Time Classic pushed from the gates just as the Kentucky Derby did the same at Churchill Downs.
Congratulations are in order to AbSOLute Horsepower and their horse Saturn on a massive win on a historic day that will go down prominently in Photo Finish™ lore.