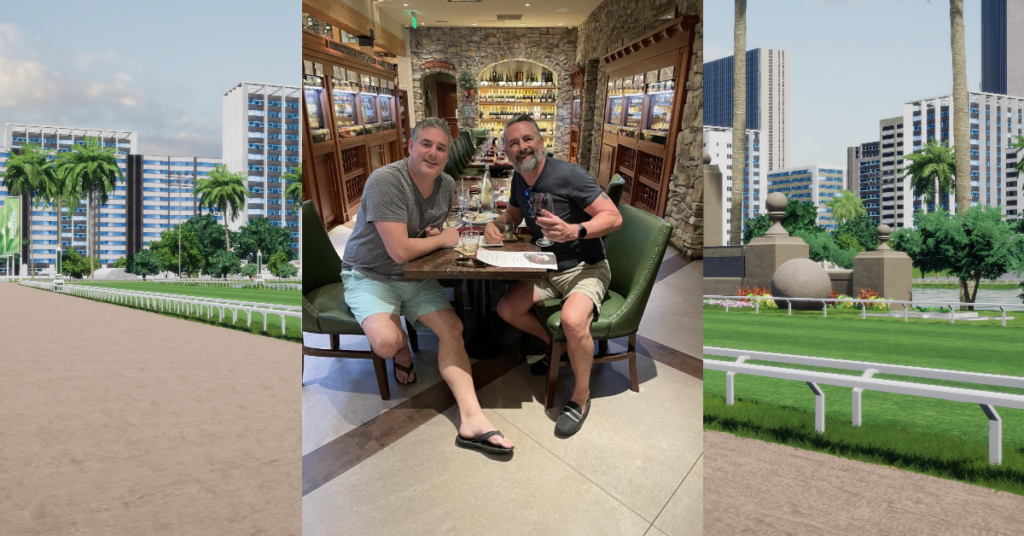 Stable owners Pocono and Singgeez didn't know each other prior to joining the Photo Finish™ LIVE community, but that soon changed after spending months shoulder-to-shoulder in a virtual horse racing foxhole. 
Worlds apart but connected through a shared interest in PFL, Pocono, the owner of Pocono Racing, based in Palm Beach, Florida, and Singgeez, the owner of OEB Racing, based in Singapore, had never considered a potential in-person meet-up would be possible until Singgeez mentioned he would be in South Florida with his family on holiday, not far from where Pocono lives.  
"I had mentioned before that I'm in Boca Raton (FL), and I told Singgeez if he was ever here or visiting to let me know," Pocono Stables said.  
"As it happens, he ended up in my area celebrating his father in laws 80th birthday. We kept in touch for the next few days, found some spare time, and were able to meet for a drink."
Singgeez says the chat was all-inclusive — as any barstool conversation with an old friend would be — and that the pair talked a lot about PFL, but even more about real life. 
"We chatted a lot about PFL and a few of the stables and people we knew, but we also talked about family, friends, business, and so much more," Singeez said.
"It was like we were old friends chatting over drinks. Eddie had a beer, and I had a few glasses of decent red wine."
"Somehow, no deals were done!"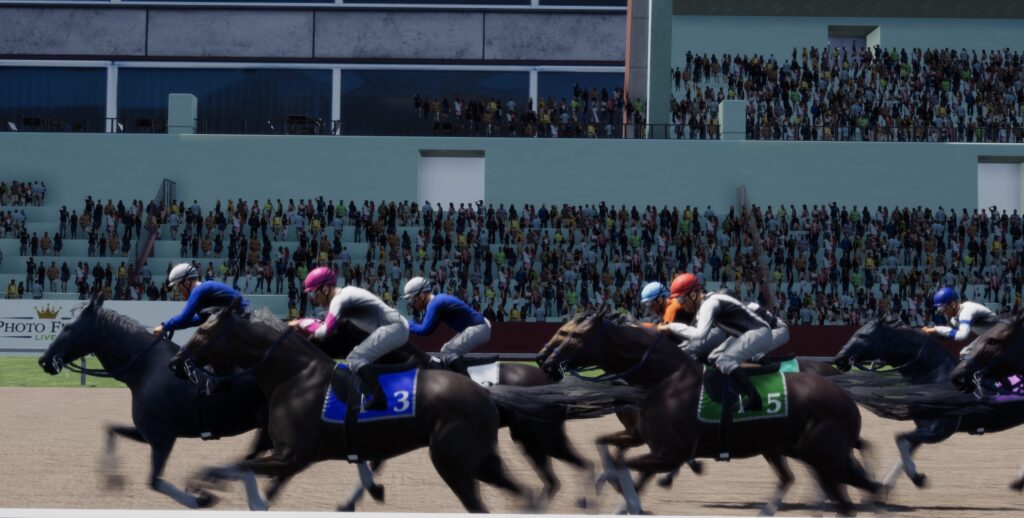 No strangers to the game, Pocono and Singgeez are each Photo Finish™ LIVE veterans in their own right. Singgeez joined the community in its early days just post-mint, and Pocono in the Spring of 2022 after hearing about the game on DeGodcast, a podcast for the DeGods DAO.
Now fully engulfed in the web3 gaming culture that has seen an epic rise in popularity over the last 18 months, Pocono says the IRL meet-up with Singeez really is just the natural progression of what has become commonplace in today's society – online connections, creating IRL bonds. 
"It's brought the kid out of me in one aspect, but at the same time, there is this understanding that this is real stuff and not just a game," Pocono said. 
"It was brought up in our conversation – today, my closest friends are people I've never met and have only spoken to in PFL Discord."
Since connecting in person thanks to PFL, they both say they have confidence in the game's growth and success and are looking forward to more in-person meetups like their recent one in Florida, or even in Singgeez's neck of the woods in Asia.
As PFL gears up for a big 2023, Pocono and Singgeez say they are excited to see the game continue to grow and bring more players together. They recommend the game to anyone who loves horse racing or just wants to try something new and exciting. 
"Owning, breeding, and racing horses – we're very bullish," Pocono said  
"Singgeez and I both mentioned in our conversation the conviction and confidence we have in Ian and the Third Time team. Ian is a big part of it. His resume, backing, and history – we're lucky."